Inflatable Climbing Wall
Introducing the Everest of inflatables!  It might not be as high as a mountain, but it's the most challenging of our family of inflatables and measuring at 6 metres tall, you'll have one mighty climb ahead of you.  No need for safety harnesses as our Fun Experts are on hand to supervise this massive activity and all those who choose to conquer it.
We have all our inflatables designed especially for The Fun Experts and the Inflatable Climbing Wall is no exception as we ensured that the height and shape of the wall would provide the highest level of safety as well as being huge fun.  Up to 4 people can climb the wall at a time, so this can either be by solo climber wishing to challenge themselves or as a race, where 4 climbers compete against each other to reach the top and ring the bell.
Due it's size we always ensure that the Inflatable Climbing Wall is set up on a grass surface to ensure a secure anchoring in the ground and the two Fun Experts provided constantly ensure the safety of everyone involved - sometimes coming down the wall can be just as hair-raising as climbing it!
What events are the Inflatable Climbing Wall Hire suitable for?
This extremely fun and nerve-wracking challenge is ideal for large outdoor events such as Fun Days, Team Building Events and much more!
Fun Days
University Events
Charity Events
Weddings and Hen/Stag Parties
Children's Parties
Team Building
Key Features of the Inflatable Climbing Wall Hire:
4 climbers at a time
2 fun experts to man the inflatable at all times
Must be set up on a grass surface
Generator hire available if there's no power on site
Isn't about time that you gave your guests a challenge that they can't refuse?  The Inflatable Climbing Wall Hire will certainly fit the bill!
1 x Inflatable Climbing Wall
Safety Mats
Power Leads
1 x Fan to Inflate (Power Required)
2 x Fully Trained Fun Experts
Equipment Size: 8m wide x 8m deep x 5.2m high
Operational Area Required: 10m wide x 10m deep x 6m high
Power: standard socket required (generator hire available 6.5kva)
Staff: Fun Expert required
Number Of Users: 4
Recommended Age/Height of Users: 4 years and over
Access Requirements: please note that a width of approximately 1.3m is required when moving the equipment through doorways and corridors. If you feel that access may be an issue, such as stairways or lift access, uneven surfaces, obstructions or perhaps long distances then please mention this in your enquiry. Please note that the Inflatable Climbing Wall is available to hire on grass only.
Speak to a Fun Expert today to discuss the bespoke upgrade options available from additional equipment, branding, prizes, props and theming. As we own all our own equipment we have the flexibility to adapt equipment to suit your requirements.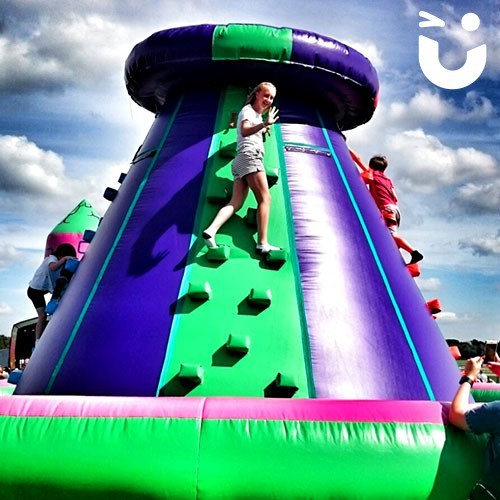 Inflatable Climbing Wall has been added to your Event Quote.
Close