Cash Grabber Cylinder Hire
Cash Grabber Cylinder Hire
Start the fans please! Everyone remembers the final game in the Crystal Maze where contestants are locked into the cubicle and the fans start to blow around the brightly coloured tickets. We can bring that same excitement to your event in the form of our amazing Cash Grabber Booth!
Once you step into the cash cube and the timer starts, it's down to you to start grabbing as many paper tickets as you can whilst the machine's fan tries to make the task as difficult as possible. As the lights change colour during the countdown, it gets harder to keep grabbing those flying paper targets, but one thing's sure… it's a whole lot of fun!
The Cash Grabber - popularly known as the Grab A Grand machine - is perfect for exhibitions and promotional events, where you need to give the players an opportunity to grab themselves a prize or voucher to promote your company and your brand.  Speaking of which, the Cash Grabber is easily brandable too - from clear vinyl stickers on the booth itself to bespoke branded paper tickets.
There are loads of different games you could play in the Cash Grabber:
Crystal Maze Challenge – we'll fill the cylinder with Silver and Gold paper tickets.  The more you grab the more you score!
Gold Sticker Seeker – to add a little difficulty, we'll only add one Gold ticket.
Grab-A-Grand – raise the stakes by adding funny money to the cylinder and watch the player go for it.
Voucher Grab – perfect for promotions and exhibitions.
What events is the Cash Grabber Hire suitable for?
The Cash Grabber is just the ticket for all kinds of events and can be used as a competition centrepiece or just a cheerful game for all to take part in!
Corporate Events
Fundraising Events
School / University Events
Exhibitions / Promotional Events
Birthday Parties
Christmas Parties
Key Features of the Cash Grabber:
Bespoke brandable tickets
Bespoke branding of the Cash Grabber
Eye catching lights and visuals
We're not full of hot air - the Cash Grabber is a great addition to an event where you need to add an element of competition and excitement.
Equipment included with the Cash Grabber:
1 x Cash Grabber machine
Power cables
Cable covering
1 x Fan
Silver / Gold tickets
1 x Fun Expert
---
Equipment Size: 1.6m wide x 1.6m deep x 2.4m high
Operational Area Required: 2.6m wide x 2.6 m deep x 2.5m high
Power: standard socket (generator hire available)
Staff: fully trained Fun Expert provided
Number Of Users: 1
Recommended Age/Height of Users: 5 years and over
Access Requirements: please note that a width of 0.82m is required when moving the equipment through doorways and corridors. If you feel that access may be an issue, such as stairways or lift access, uneven surfaces, obstructions or perhaps long distances then please mention this in your enquiry.
We can tailor the Cash Grabber to your event with some fantastic Upgrade options as detailed below:
Bespoke brandable tickets

- perfect for Exhibitions / Promotional Events, we can offer bespoke tickets / funny money that guests collect when inside the Cash Grabber

Bespoke branding of the Cash Grabber

- we can add vinyl stickering to the external of the Cash Grabber or brand complete panels, adding a massive eye catching detail to this great product.
Speak to a Fun Expert today to discuss how you can benefit from these bespoke features for your event.
Using the Cash Grabber captivated our audience once again. It's the fourth time I have used it and it never fails to entertain visitors.
Katie Jones
The Cash Grabber added a fun element to our exhibition and really helped draw a crowd.
Chloe
The Cash Grabber became a definite focal point, not only of our stand but of the entire expo!
Gemma Wheeler, , Vapouriz
From the very first phone call I knew I had made the right choice, very professional and most helpful. Thank you so much!
Mel Dreszler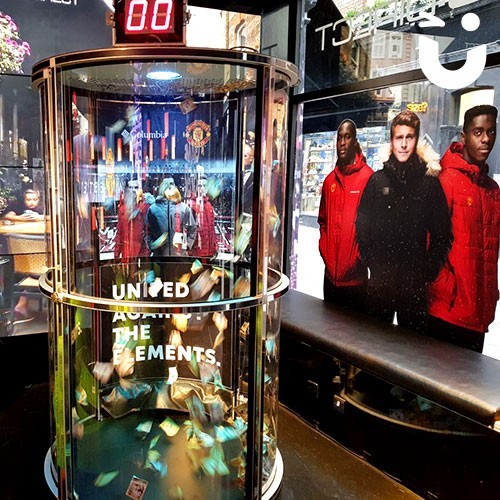 Cash Grabber Cylinder Hire has been added to your Event Quote.
Close
Call the Fun Experts to discuss your event: