Event Globe Hire
Finding the perfect way to attract an audience is key to a successful promotional event. Keeping guests entertained and intrigued so you can promote your brand or new product is often the biggest challenge, especially when in the middle of a shopping centre or HUGE exhibition hall.
We have the solution you need! Available to hire for your upcoming event, the Event Globe is the perfect platform for you to shout about your brand. The giant bubble takes on the form of a snow globe and allows guests to walk inside - up to 8 people can fit inside - for the ultimate selfie.
Within the globe, you may have a specific theme, a trip to the beach perhaps - not a problem. With a vibrant blue backdrop and deckchairs and palm trees within, you can imagine the sight now! With a variety of ideas to share and open to bespoke branding, the Event Globe really is an eye catching treat.
Within the globe itself, more fun can be added. You may remember the fun of our sister Snow Globe, which allows guests to have snow fly around the globe. Well here the fun can be adding balloons, coloured balls - full colour overload and great fun for guests 
Once the perfect selfie has been taken, make sure you have them share your # on social media too! Think how far your brand will travel with the Event Globe!
What events is the Event Globe suitable for?
The Event Globe is perfect for  those all important events such as exhibitions and product launches. But it doesn't have to end there as a variety of events have made perfect use of this fantastic hire...
Exhibitions / Promotional Events
Product Launch
Corporate Events
Shopping Centre Promotions
University Events
A snow-filled adventure can be entertaining or promotional, depending on the event that you're hosting.  For further advice, contact our team who can talk you through the benefits of this impressive inflatable attraction.
Key features of the Event Globe:
Big enough for large groups
Brand-able backdrop and front banner - shout about your Brand!
An definite crowd puller and pleaser
What's included with Event Globe Hire:
1 x Event Globe Inflatable
1 x Backdrop (this can be customised if required)
2 x Fun Experts
Equipment Size: 4.2m wide x 4.2m deep x 3.2m high
Operational Area Required: 5.7m wide x 5.7m deep x 4m high
Power: access to two 13amp standard sockets required (generator hire available)
Staff: 2 Fun Experts required
Number Of Users: up to 8 people
Access Requirements: please note that a width of 0.85m is required when moving the equipment through doorways and corridors. If you feel that access may be an issue, such as stairways or lift access, uneven surfaces, obstructions or perhaps long distances then please mention this in your enquiry.
We can tailor the Event Globe to your event with some fantastic Upgrade options that will really allow you to stand out - perfect for Exhibitions and Promotional Events where you need to shout about your brand or new product.
Bespoke brandable backgrounds - instead of our sparkly backdrop, you could have guests pose against a bespoke backdrop within the Globe.
Bespoke brandable skirting - the lower skirt of the Event Globe can be tailored to your event, making a perfect opportunity for adding your brand to this hire.
Speak to a Fun Expert today to discuss how you can benefit from these bespoke features for your event and details of sizing.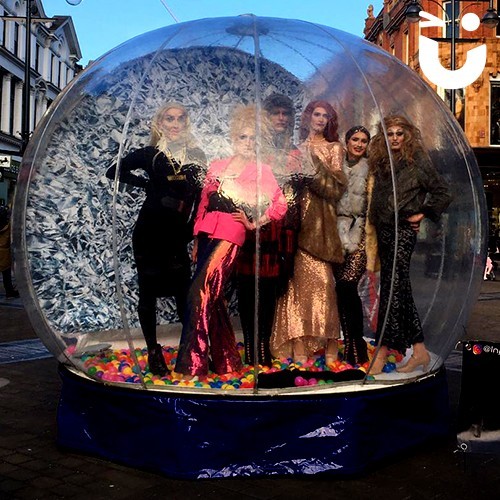 Event Globe Hire has been added to your Event Quote.
Close