Assault Course Bish Bash Hire
Assault Course Bish Bash Hire
One of the add-on sections to the Assault Course Hire, the Assault Course Bish Bash Hire lets you extend the fun even further with a fantastic obstacle that will have your guests bouncing from side-to-side as they try to make their way through the huge inflatable pillars adorned in bright purple, pink, green and blue.
The Assault Course Bish Bash Hire works perfectly when used with the other additional sections, the Assault Course Tunnels Hire, Assault Course Tyres Hire and Assault Course Mangles Hire, but it's equally as good when used as a standalone item and is brilliant at birthday parties and weddings as a fun inflatable to keep the kids entertained. No matter how you have this amazing inflatable set up, you'll be sure to have a fantastic time.
What events are the Assault Course Bish Bash Hire suitable for?
Hire the Assault Course Bish Bash Hire at all kinds of events with an active feel - Team Building Events, Fun Days, Sports Events… the list is endless!
Team Building
Fun Days
Promotional Events
Charity Events
Birthday Parties
Children's Parties
Weddings and Hen/Stag Parties
University Events
Sports Events
Key Features of the Assault Course Bish Bash Hire:
Used with the other Assault Course Inflatable or its own
Impressive looking inflatable
So bish-bash your way to success at your event, with our great range of inflatables - just make sure you give yourself a good head-start!
Equipment included in Assault Course Bish Bash Hire:
1 x Assault Course Bish Bash
Safety Mats
Power Leads
1 x Fan to Inflate (Power Required)
---
Equipment Size: 6.7m wide x 3.4m deep x 2.5m high
Operational Area Required: 8.7m wide x 5.4m deep x 2.5m high
Power: standard socket required (generator hire available 6.5kva)
Access Requirements: Please note that a width of approximately 0.7m is required when moving the equipment through doorways and corridors. If you feel that access may be an issue, such as stairways or lift access, uneven surfaces, obstructions or perhaps long distances then please mention this in your enquiry.
With a fun house full of equipment, we can tailor packages to your needs which means there are a number of upgrade options available when you hire the Bish Bash Assault Course:
Add On Sections - that's right, you can make the Bish Bash inflatable even bigger and more exciting by adding one of the many add-on sections we have available. Some of these are detailed in the 'You May Also Like' section such as the Mangles inflatable, full Assault Course inflatable and Scramble Net, but there are more...you could build the Assault Course up to 300ft!
Team Building - looking to improve employee engagement, make a full day of it by upgrading to a Team Building package. Filled with lots of challenges and races, it makes for the perfect morale boost.
If you're interested in upgrading your hire package, be sure to enquire with the Fun Experts who are sure to fill you with inspiration!
From start to finish the The Fun Experts were great! Everyone loved the knockout challenge, It was fantastic! Massive thanks!
Pat Munro (Alness) Ltd
The Fun Experts organised our company Team Building event. I will definitely be recommending them to other projects in our company.
Victoria Callow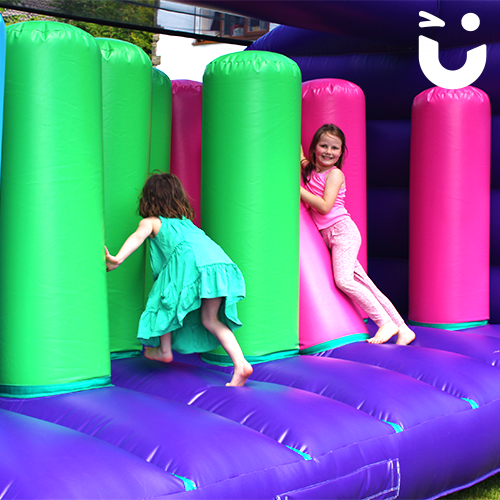 Assault Course Bish Bash Hire has been added to your Event Quote.
Close
Call the Fun Experts to discuss your event: