Assault Course Mangles Hire
Assault Course Mangles Hire
Will you get mangled in our Assault Course Mangles Hire? As you come up to this great inflatable, you'll wonder how you're going to fit through the gap, but once you dive in head first you'll find it easier than it looks.  Squeeze through and you might find yourself pooping out first! Not everyone will escape this inflatable easily but they're sure to have some fun trying.
If we had one piece of advice for you it would be to hire the Assault Course Mangles Hire as part of the the Assault Course Activity Run with all the additional sections lined up to create a much longer and more taxing obstacle course.  But of course, if you want to use the Assault Course Mangles Hire on its own, then we can't deny how great it will be as a standalone item.
What events are the Assault Course Mangles Hire suitable for?
The Assault Course Mangles Hire is such a fun inflatable that we see it as being used at all kinds of fun events, from Team Building and Fun Days to Birthday Parties and Sports Events.
Team Building
Fun Days
Promotional Events
Charity Events
Birthday Parties
Children's Parties
Weddings and Hen/Stag Parties
University Events
Sports Events
Key Features of the Assault Course Mangles Hire:
Can be part of a bigger package or used solo
Three people can use at once
Whether it is used as part of the activity run or as a stand alone attraction, the Assault Course Mangles Hire are sure to entertain all ages as you compete to beat your opponents through this brightly coloured inflatable.
Equipment included in Assault Course Mangles Hire:
1 x Assault Course Mangles
Safety Mats
Power Leads
1 x Fan to Inflate (Power Required)
---
Equipment Size: 6.7m wide x 3.4m deep x 2.5m high
Operational Area Required: 8.7m wide x 5.4m deep x 2.5m high
Power: standard socket required (generator hire available 6.5kva)
Staff: adult supervision required (staff hire available)
Number Of Users: 3
Recommended Age/Height of Users: 5 years and over
Access Requirements: Please note that a width of approximately 0.7m is required when moving the equipment through doorways and corridors. If you feel that access may be an issue, such as stairways or lift access, uneven surfaces, obstructions or perhaps long distances then please mention this in your enquiry.
The fun doesn't have to stop with just the hire of the Mangles Assault Course section, there is plenty more fun to add with a number of upgrade options available:
Add On Sections - that's right, you can make the Mangles inflatable even bigger and more exciting by adding one of the many add-on sections we have available. Some of these are detailed in the 'You May Also Like' section such as the full Assault Course inflatable and Bish Bash inflatable section, but there are more...you could build the Assault Course up to 300ft!
Team Building - looking to improve employee engagement, make a full day of it by upgrading to a Team Building package. Filled with lots of challenges and races, it makes for the perfect morale boost.
If you're interested in upgrading your hire package, be sure to enquire with the Fun Experts who are sure to fill you with inspiration!
From start to finish the The Fun Experts were great! Everyone loved the knockout challenge, It was fantastic! Massive thanks!
Pat Munro (Alness) Ltd
The Fun Experts organised our company Team Building event. I will definitely be recommending them to other projects in our company.
Victoria Callow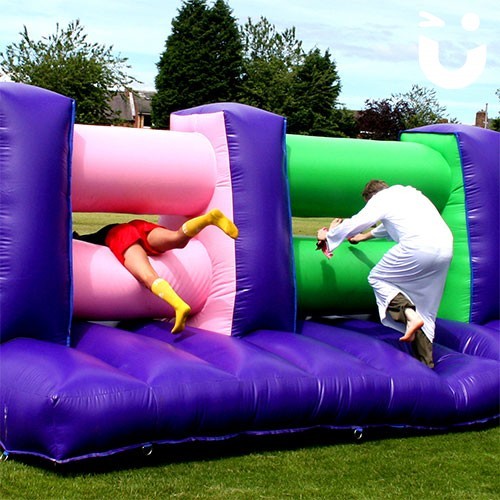 Assault Course Mangles Hire has been added to your Event Quote.
Close
Call the Fun Experts to discuss your event: