Digital Graffiti Wall Hire
Digital Graffiti Wall Hire
Since its early days on the subway trains of 1970s New York, graffiti art has been elevated from juvenile vandalism to a well respected art form with it's unique style and guerrilla approach and now, using cutting edge technology, you can embrace your artistic side and bring out your inner Banksy with our high-tech Digital Graffiti Wall. 
This impressive piece of equipment boasts a huge 8' screen to which our operator can display either the preloaded backgrounds or photos - the latter of which are taken there and then!  The budding artists can then use the handheld digital spray can to 'improve' or 'vandalise' the image. With a choice of sprays, brushes and effects, anything is possible!  Write on a message wall, doodle on faces or create a masterpiece... the possibilities are endless.  
Using a state-of-the-art printer, our operator will supply artists with a copy of the 'artwork' immediately, and we'll supply you with a USB stick of all the images from your event! Just like our Photo Booths and Magic Selfie Mirrors, we can apply any customisation to the print-outs, so it's perfect for branding.
What events are the Digital Graffiti Wall Hire suitable for?
The Digital Graffiti Wall is a must-have addition to corporate events, weddings and parties of all kinds and great for bringing out the creative (or sometime juvenile) side of its guests! 
Key Features of the Digital Graffiti Wall Hire:
Huge 8-foot screen
Instant printouts of images
Versatile art options
Take pictures and write on them instantly!
USB of all the artworks created
A fully trained 'Fun Expert'
Brandable print options
If you're looking to create an event that will embrace the creative side of your guests, then the Digital Graffiti Wall is perfect for your event, so pick up the phone and call the Fun Experts!
Included with the hire of the Digital Graffiti Wall:
Slick technology with rear projection screen and state of the art printer
Choice of sprays, brushes and pen effects and a choice of colour using the digital spray can
Upload your own image to 'graffiti' on, there and then!
Unlimited usage and unlimited prints - prints of your work come out in seconds!
Instant USB full of everyone's 'work of art' at the end of your event
A fully trained 'Fun Expert'
Personalised message or logo to make your prints exclusive!
Equipment Size: 3.5m wide x 2m deep x 2.4m high
Operational Area Required: 4m wide x 3.5m deep x 2.5m high
Power: Requires 13amp 240V power supply (generator hire available)
Staff: trained Fun Expert provided
Number Of Users: 1
Access Requirements: please note that a width of 0.82m is required when moving the equipment through doorways and corridors. If you feel that access may be an issue, such as stairways or lift access, uneven surfaces, obstructions or perhaps long distances then please mention this in your enquiry. The Digital Graffiti Wall does need to be set up in an inside area. Should you have any questions regarding this then please ask at the time of enquiry.
The Digital Graffiti Wall is open to Upgrades that allow for your hire to be more bespoke to your event.
Branded backgrounds - the 8' canvas is a perfect opportunity to display your brand and catch the eye of passers by...that is before the digital graffiti spray cans are used!
Branded prints - the technology of the Digital Graffiti Wall allows us to upload a print design bespoke to your requirements
Speak to a Fun Expert today to discuss how you can benefit from these bespoke features for your event.
Professional and friendly staff as always. Equipment always perfect, leading to a fab event. Thank you!
Claire
The Digital Graffiti Wall was awesome at our party! Its a must for our next event!
Simon Watson
I have had 5 events through The Fun Experts. They all went really well and the staff were very helpful. I would definitely HIGHLY RECOMMEND!.
Sam Spencer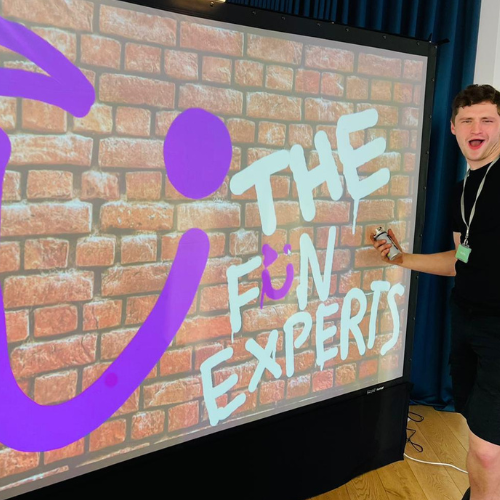 Digital Graffiti Wall Hire has been added to your Event Quote.
Close
Call the Fun Experts to discuss your event: