Bungee Run Inflatable Hire
Bungee Run Inflatable Hire
It's time to weed out the men from the boys, the strong from the weak, and the wheat from the chaff!  The Bungee Run is one of our most popular competition inflatables, with queues forming as the hopeful participants race their way along the brightly coloured tracks.
Here's what you need to do: take your place in your chosen lane and our fun expert will strap you in, attaching you to the bungee cord on the back of the inflatable. Then it's up to you to run as fast and as hard as you can along the bungee run, placing your bean bag as far along as you can.  But now sooner have you placed it and you relax, the cord will drag you back to your starting place!
Since every person who tests their skills on the Bungee Run is different we also have the ability to alter the strength of the bungee cords, thus increasing or decreasing the tension.  Children can play against adults, since the playing field has been sufficiently evened!
What events are the Bungee Run Hire suitable for?
The highly competitive nature of the Bungee Run make it a perfect addition to events of all kinds - so whether you want to add a bit of fun to your event or you need to determine and overall winner of a sports or Team Building event, then this is the one for you!
Fun Days
Charity Events
Team Building
Birthday Parties
Children's Parties
Promotional Events
Weddings and Hen/Stag Parties
School / University Events
Key Features of the Bungee Run Hire:
Children can play against adults due to the variable bungee cord tensions
Supervised by a trained fun expert
Did you know?  The highest recorded Bungee Jump point is at Royal Gorge Bridge in Colorado, USA, at 321 metres!  But don't worry, there are no heights involved in the Bungee Run - you'll be keeping your feet firmly on the ground!
Equipment included with Bungee Run Inflatable Hire:
1 x Inflatable Bungee Run
2 x Bean Bags
2 x Bungee Belts
Safety Mats
Power Leads
Fan to Inflate (Power Required)
1 x Fully trained Fun Expert
Equipment Size: 3.0m wide x 10.5m deep x 2.0m high
Operational Area Required: 5.0m wide x 12.5m deep x 3.0m high
Power: standard socket required (generator hire available 6.5kva)
Staff: fully trained fun expert provided
Number Of Users: 2
Recommended Age/Height of Users: 5 years and over
Access Requirements: please note that a width of approximately 1.1m is required when moving the equipment through doorways and corridors. If you feel that access may be an issue, such as stairways or lift access, uneven surfaces, obstructions or perhaps long distances then please mention this in your enquiry.
Speak to a Fun Expert today to discuss the bespoke upgrade options available from additional equipment, branding, prizes, props and theming. As we own all our own equipment we have the flexibility to adapt equipment to suit your requirements.
The highest compliment that I can pay to The Fun Experts and their excellent staff is that I have used them for my Fun Day for the past four years!
Barry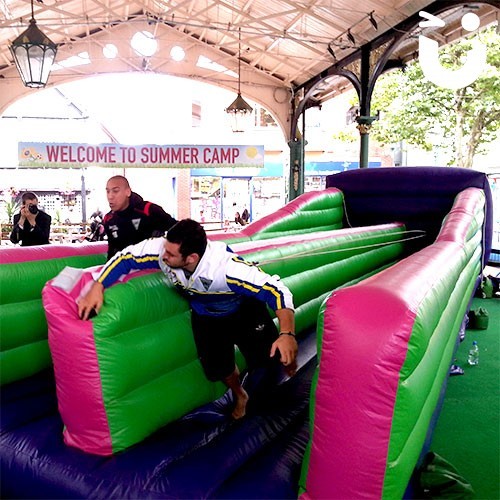 Bungee Run Inflatable Hire has been added to your Event Quote.
Close
Call the Fun Experts to discuss your event: