Gladiator Joust Inflatable Hire
Gladiator Joust Inflatable Hire
Gladiators! Ready! Remember the Duel game from the Gladiators TV show? Contenders would battle the Gladiators on top of a platform with a massive pugil stick in an attempt to knock each other off. Now, you can create that famous battle on our amazing Gladiator Joust Inflatable Hire - only a little closer to ground level.
A fun filled inflatable, the Gladiator Joust will ensure roars of laughter are heard as it gives everyone an enjoyable experience, whether taking part or standing back and watching. Surrounded by a large inflatable bed, two people take their place on the raised stands opposite one another.  Battle commences as each gladiator has to duck then bash and swerve, jump and bop their way to glory.
The Gladiator Joust Inflatable Hire is suitable for children as young as 6, who can compete against their friends of siblings in a bid to becoming the duelling champion; adults can take their turn once the children have finished their game, donning the safety helmets before trying to knock each other onto the inflatable bed.
What events are the Gladiator Joust Inflatable Hire suitable for?
This great inflatable is perfect for all kinds of events, indoors or outdoors, where you have a competitive element to the day. You'll find the queues forming at brother takes on sister and mum takes on dad!
Fun Days
Charity Events
Promotional Events
Weddings and Hen/Stag Parties
School / University Events
Team Building
Birthday Parties
Children's Parties
Key Features of the Gladiator Joust Inflatable Hire:
Suitable for 6 years old and up
Safety helmets supplied
Can be supervised by a trained fun expert or you can supervise it yourself
You'll have a great time as you swing your pugil stick around, bashing and boshing your opponent, but make sure you keep your balance as you don't want to be the one falling on the inflatable bed!
Equipment Included with Gladiator Joust Inflatable Hire: 1 x Gladiator Joust Inflatable 2 x Safety Helmets 2 x Duelling Batons Safety Mats Power Leads 1 x Fan to Inflate (Power Required)
---
Equipment Size: 5.6m wide x 5.1m deep x 1.4m high
Operational Area Required: 6.6m wide x 6.1m deep x 3.4m high
Power: standard socket required (generator hire available 6.5kva)
Staff: Fun expert required
Number Of Users: 2
Recommended Age/Height of Users: 7 years and over
Access Requirements: please note that a width of 0.82m is required when moving the equipment through doorways and corridors. If you feel that access may be an issue, such as stairways or lift access, uneven surfaces, obstructions or perhaps long distances then please mention this in your enquiry.
Speak to a Fun Expert today to discuss the bespoke upgrade options available from additional equipment, branding, prizes, props and theming. As we own all our own equipment we have the flexibility to adapt equipment to suit your requirements.
The highest compliment that I can pay to The Fun Experts and their excellent staff is that I have used them for my Fun Day for the past four years!
Barry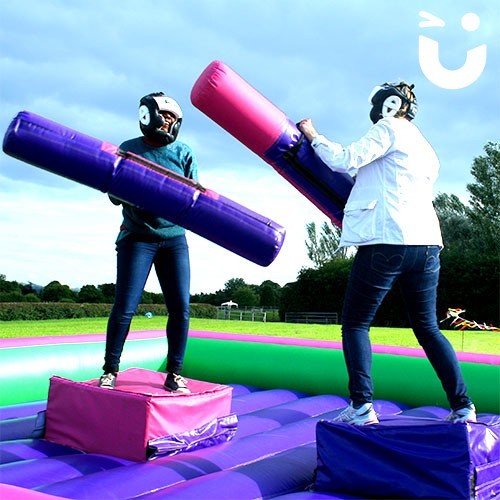 Gladiator Joust Inflatable Hire has been added to your Event Quote.
Close
Call the Fun Experts to discuss your event: