Surf Simulator Hire
Cowabunga dudes! There's no need to head to Bondi Beach to catch those big waves!  Bring the Surf Simulator to your event and you'll be rocking and rolling with the big kahunas as they strive to catch the next Big Wave!  Or if you simply want to hang loose, you can watch in awe as the more experienced riders carve and snap their way to surfing glory!
The Surf Simulator is set up and controlled by our fully trained Fun Expert - safety is paramount on these types of rides.  The multi-direction joystick give the operator full control of the ride from start to finish, increasing and decreasing the speed and tilt of the board during the activity.  And if the rider "wipes out" the joystick is released , stopping the movement instantly and prevent and risk to the fallen rider.
As well as being great fun at all kind of events, the Surf Simulator is perfect for competitive events as the control station also has a timer built-in that displays how long the rider has managed to keep their balance on the surfboard.  We can keep track of the best riders of the day, as well as those who didn't do so well.
What events are the Surf Simulator Hire suitable for?
The Surf Simulator Hire is a great, fun activity that works for all kinds of event, often where there is a beach, tropical or sporting theme to the proceedings.  
Beach Themed Events
Fun Days
University Events
Sports Events
Birthday Parties
Bar Mitzvahs / Bat Mitzvahs
Promotional Events
Charity Events
Weddings
Shopping Centre Promotions
Key Features of the Surf Simulator Hire:
Suitable for riders over 1.2m tall or 10 years of age
Controlled by a Fun Expert
Instant stop function
Competition timer included
Get your boardshorts on and head to the beach and hang with the Dillas, Kooks and Hodads but make sure you get your practise in on our Surf Simulator first.
Equipment Included with Surf Simulator Hire:
1 x Surf Board Attachment
1 x Inflatable Bed
1 x Control Station
Safety Mat
Power Leads
1 x Fan to Inflate (Power Required)
A Fun Expert
---
Equipment Size: 3.7m wide x 3.7m deep x 0.6m high
Operational Area Required: 5.7m wide x 5.7m deep x 2.5m high
Power: standard socket required (generator hire available 6.5kva)
Staff: trained operator provided
Number Of Users: 1
Recommended Age/Height of Users: Users must be at least 1.2m tall or at least 10 years of age
Access Requirements: Please note that a width of 0.82m is required when moving the equipment through doorways and corridors. If you feel that access may be an issue, such as stairways or lift access, uneven surfaces, obstructions or perhaps long distances then please mention this in your enquiry.
Speak to a Fun Expert today to discuss the bespoke upgrade options available from additional equipment, branding, prizes, props and theming. As we own all our own equipment we have the flexibility to adapt equipment to suit your requirements.
The highest compliment that I can pay to The Fun Experts and their excellent staff is that I have used them for my Fun Day for the past four years!
Barry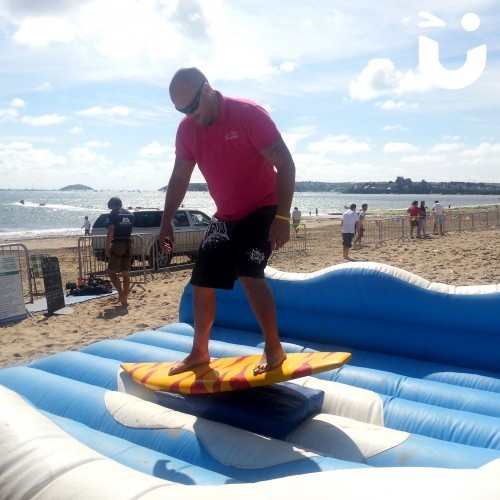 Surf Simulator Hire has been added to your Event Quote.
Close
Call the Fun Experts to discuss your event: