Rodeo Sheep Hire
Whenever you hear the words 'Rodeo' or 'Bucking', you'll often find it followed by 'Bull' or 'Bronco'.  But why not bring something different to your event with our very own Maurice the Rodeo Sheep.  There's something quite comical about riding Maurice, with his laconic expression on his face, he hardly seems fazed by the rider astride his back, but he carries on regardless, twisting and turning to throw you off.
Maurice is operated by our Fun Expert who gives the rider a fantastic experience from the moment they get on his back.  There's no wool to grab hold of, so you'll need to grab onto the solitary handle and try your best not to be thrown onto the soft inflatable bed.  Once you hit the bed, the Rodeo Sheep will stop instantly, preventing any chance of receiving a bump on the noggin.  And your time will be recorded on the competition timer, so you can find out who has managed to ride the ram the longest!
Amazing at fun days, the Rodeo is most at home at outdoor events, but can always be used indoors if the weather turns sour.  Alternatively, we have our huge Rodeo Canopies that can keep the showers at bay. Now it's down to you to hitch your leg over the sheep and ride until you cannae ride no more!
What events are the Rodeo Sheep Hire suitable for?
The Rodeo Sheep Hire is a great alternative to the Rodeo Bull as its quirky look will entertain those spectating as well as those taking part.
Fun Days
Team Building
Promotional Events
Charity Events
Weddings
Shopping Centre Promotions
Sports Events
Birthday Parties
Children's Parties
University Events
Key Features of the Rodeo Sheep Hire:
Safely controlled by the Fun Experts
Instant-stop feature
Hilarious to watch as well as ride!
Competition timer in the base unit
Ewe won't believe the amount of fun you could have on the Rodeo Sheep.  Just hold on tight and you won't be feeling sheepish as you fall off!
Equipment Included with Rodeo Sheep Hire:
1 x Rodeo Sheep Attachment
1 x Inflatable Base
1 x Control Station
Safety Mat
Power Leads
1 x Fan to Inflate (Power is Required)
A Fun Expert
---
Equipment Size: 4.6m diameter x 1.6m height
Operational Area Required: 6.6m diameter x 2.6m height
Power: standard socket required (generator hire available 6.5kva)
Staff: trained operator provided
Number Of Users: 1
Recommended Age/Height of Users: Users must be at least 1.2m in height, or able to mount the Rodeo unassisted
Access Requirements: please note that a width of 0.85m is required when moving the equipment through doorways and corridors. If you feel that access may be an issue, such as stairways or lift access, uneven surfaces, obstructions or perhaps long distances then please mention this in your enquiry.
Speak to a Fun Expert today to discuss the bespoke upgrade options available from additional equipment, branding, prizes, props and theming. As we own all our own equipment we have the flexibility to adapt equipment to suit your requirements.
The highest compliment that I can pay to The Fun Experts and their excellent staff is that I have used them for my Fun Day for the past four years!
Barry
I have had 5 events through The Fun Experts. They all went really well and the staff were very helpful. I would definitely HIGHLY RECOMMEND!.
Sam Spencer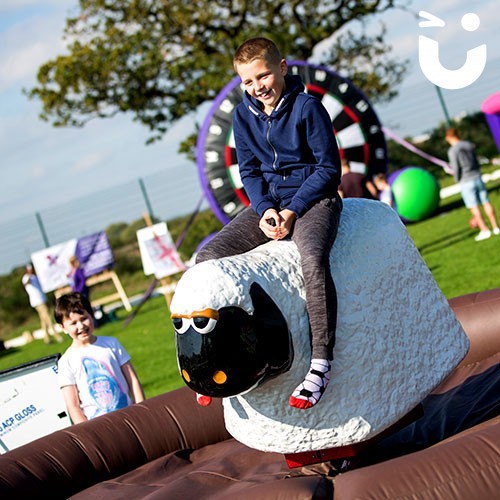 Rodeo Sheep Hire has been added to your Event Quote.
Close
Call the Fun Experts to discuss your event: