Scalextric Hire
Do you see yourself as the next Lewis Hamilton? Get your finger on the trigger and compete for your place on the winner's podium in our high-octane Scalextric Hire.  Just like the classic retro game of the 1980s, but to a much bigger degree, this game is perfect for all kinds of events, competitions and parties.
Stop the Press - New Announcement!
Our Scalextric track has received a revamp and Oh my, will you be impressed! Our track has been hand made in Germany and combines cutting edge digital technology with the highest quality traditional wooden racing surface.
The Slotronic digital race software allows up to 8 cars to race simultaneously across the 3 lane track. Contestants line up on the grid, grand prix style and await the green light.. While the intelligent track lets each driver vie for the racing line, it identifies the fastest cars during the lap and then switches the quickest cars into the inside lane allowing for spectacular overtaking manoeuvres and realistic thrills and spills! The winner is identified as the first to complete a ten lap race and the software also records lap times, allowing further accolades for contestants. 
The standard set up comes with our easy handling, stable muscle cars, on request however the more adventurous may want to step into the boots of Senna, Hamilton and Schumacher with our Formula One car set.
Measuring at 3.40m x 1.70m, the track is perfect for a variety of events as it stands but should you want to impress further, you can upgrade the track to the bigger size of 4.25m x 1.70m - ideal for a larger venue.
Your childhood memories of hours on the Scalextric are going to be shadowed by this fantastic update to an always popular hire for any and every event type.
What events are the Scalextric Hire suitable for?
The Scalextric Hire is suitable for all kinds of indoor events that have a competitive and fun nature or if you need to attract people to an exhibition stand.
Fun Days
Promotional Events
Charity Events
Weddings
Exhibitions
Shopping Centre Promotions
University Events
Birthday Parties
Children's Parties
Team Building
Key Features of the Scalextric Hire:
Up to 8 racers across the 3 lanes at any one time
State of the art tech that allows cars to overtake while racing
3 lanes and 2 layouts of track available
Lap counter to register your times
Suitable for indoor events
Modular track can fit into most venues
Branding options available on the track billboards
Did you know?  The longest Scalextric track measured 2.95 miles and was based on the Brooklands racing track!  But don't worry, our Scalextric will fit into your venue!
Equipment included with Scalextric Hire:
1 x Scalextric Race Track Table
Selection of Scalextric Cars
4 x Control Triggers (Upgrade to 8 available)
1 x Lap Counter Display
Power Leads
2 x Fun Experts
---
Equipment Size: Max size 4.25m wide x 1.70m deep
Operational Area Required: 6.25m wide x 3.70m deep
Power: standard socket required (generator hire available 6.5kva)
Staff: trained operators provided
Number Of Users: 4 x Control Triggers (Upgrade to 8 available)
Recommended Age/Height of Users: 5 years and over
Access Requirements: please note that a width of 0.82m is required when moving the equipment through doorways and corridors. If you feel that access may be an issue, such as stairways or lift access, uneven surfaces, obstructions or perhaps long distances then please mention this in your enquiry.
Already an impressive piece of equipment for any event, the Scalextric is open to a number of upgrades that are sure to entice you futher:
Size - you can upgrade the size of track for the Scalextric from 3.40m x 1.70m to an even more enjoyable 4.25m x 1.70m.
Cars - provided with the standard Push and Go Scalextric cars, you may want to consider upgrading to the flash American Muscle Cars or get gritty with the classic British Rally Cars
Scalextric Racing Package - add more of a racing theme to your event with this package which includes theming and props, adding more depth to the experience for guests.
Bespoke Branding - the Scalextric is open to some fantastic branding options for you to promote your brand at your event
To discuss these upgrades options further, be sure to ask the Fun Experts when you enquire.
From the very first phone call I knew I had made the right choice, very professional and most helpful. Thank you so much!
Mel Dreszler
I have had 5 events through The Fun Experts. They all went really well and the staff were very helpful. I would definitely HIGHLY RECOMMEND!.
Sam Spencer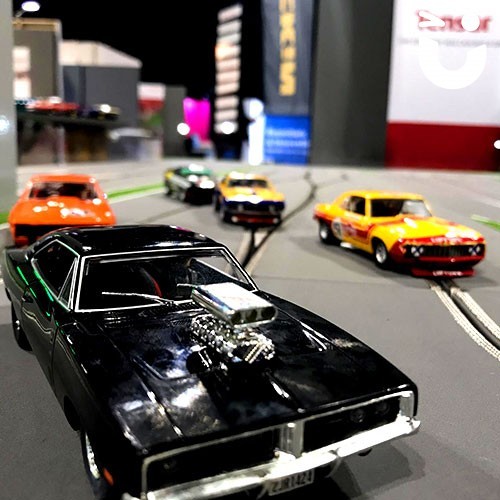 Scalextric Hire has been added to your Event Quote.
Close
Call the Fun Experts to discuss your event: