Children's Dino Inflatable Slide Hire
Children's Dino Inflatable Slide Hire
Dudley isn't like the dinosaurs you may remember from the land before time.  This friendly dinosaur is brilliant with kids as he allows them climb onto his back and up to the top ready to slide down his tail.  The children will instantly fall in love Dudley (that's what we call him), being the cutest member of our team.
Blown up to gargantuan size, the bright purple and green dinosaur might not look quite like the ones you might find in Jurassic Park, but it does let him blend in with our other inflatables - perhaps it's a camouflage technique - or perhaps he just wants to be one of the gang.  Either way, you won't be disappointed once you try out his tail-slide.
The Children's Dino Inflatable Slide is most popular with younger children making him an excellent addition to birthday parties or weddings where you have a lot of small kids who need to be entertained.  Due to his size, we recommend that two people look after this prehistoric creature, guaranteed to charm everyone at your event and keep those kids busy!
What events are the Children's Dino Inflatable Slide Hire suitable for?
Bring Dudley to your event if you've got a group of small children to entertain at your event - they will certainly thank you for all the fun and joy they'll have sliding down his tail.
Fun Days
Promotional Events
Charity Events
Birthday Parties
Children's Parties
Bar Mitzvahs / Bat Mitzvahs
Key Features of the Children's Dino Inflatable Slide Hire:
Brightly coloured design to wow your younger guests
Safety mats included
Can be monitored by 2 responsible adults or 1 of our fun experts
If no power is available on site, we can provide a generator
So can Dudley the Dino Slide bring a sense of fun and excitement to your next event?  You bet Jurassic-an?
Equipment Included with Children's Dudley Dino Inflatable Slide Hire:
1 x Dudley Dino Inflatable Slide
Safety Mats
Power Leads 
1 x Fan to Inflate (Power Required)
At least one adult must provide close and direct supervision of children on the Dudley Dino Slide. Size and number of users must be adhered at all times.
Equipment Size: 7.5m wide x 3.5m deep x 3.5m high
Operational Area Required: 9.5m wide x 4.5m deep x 3.5m high
Power: standard socket required (generator hire available 6.5kva)
Staff: adult supervision required (a fun expert is available)
Number Of Users: 3
Recommended Age/Height of Users: 9 years and under
Access Requirements: please note that a width of approximately 0.9m is required when moving the equipment through doorways and corridors. If you feel that access may be an issue, such as stairways or lift access, uneven surfaces, obstructions or perhaps long distances then please mention this in your enquiry.
Speak to a Fun Expert today to discuss the bespoke upgrade options available from additional equipment, branding, prizes, props and theming. As we own all our own equipment we have the flexibility to adapt equipment to suit your requirements.
The highest compliment that I can pay to The Fun Experts and their excellent staff is that I have used them for my Fun Day for the past four years!
Barry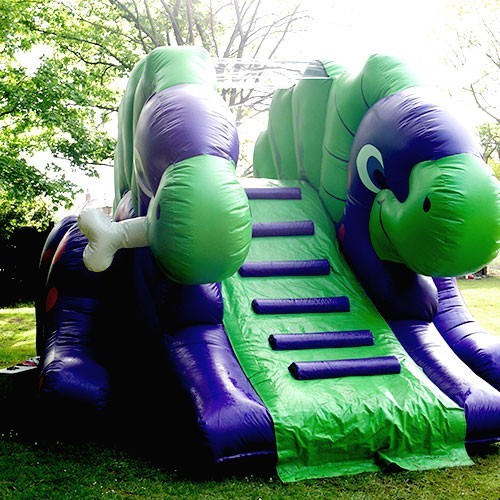 Children's Dino Inflatable Slide Hire has been added to your Event Quote.
Close
Call the Fun Experts to discuss your event: