Rodeo Bull Hire
The classic Rodeo Bull hire option - also known as a mechanical bull - has been twisting and rocking us since its invention in the 1930s and it's not run out of steam yet, still topping the charts as one of the most popular hires at all kinds of events. All you need to do is straddle the Bucking Bronco and hold on tight as the ride begins and you'll either find yourself thrown from the bull onto to the inflatable bed or riding your heifer to victory as you get into the zone and anticipate its every move.
Controlled by our trained Fun Expert, the Bucking Bronco can twist and turn in every direction, so we ensure that all aspect of safety are considered.  The back of the bull's head is padded and should a rider be thrown from the bull, the movement is instantly stopped once the controller releases the joystick.  We also ensure that the Bull is ridden by people who can handle the experience, so those who are too young, too small, or too drunk, won't be able to ride.  Safe fun is good fun!
The Rodeo Bull can be used in both indoor and outdoor events, providing you have the space available and, should the weather decide to be a bit belligerent that day, we can also provide an Inflatable Canopy to ensure that everyone still has a great time.  The controller unit also features a timer, so we can record how long you've ridden the beast!
What events are the Rodeo Bull Hire suitable for?
What events ISN'T is suitable for?! The Rodeo Bull is such a popular item that it finds itself being used at all manner of events - check out the photos to see brides braving the bucking bronco!
Fun Days
Team Building
Promotional Events
Charity Events
Weddings
Childrens Parties
Shopping Centre Promotions
University Events
Key Features of the Rodeo Bull Hire:
Controlled by our fully trained Fun Expert
Instant-stop safety feature
Great at all kinds of events
Competition timer in the base unit.
So saddle up and you will find yourself having the time of your life as the bull tries to buck you off - you'll be rolling around with laughter once you hit the inflatable bed!
Equipment Included with Rodeo Bull Hire:
1 x Rodeo Bull Attachment
1 x Inflatable Base
1 x Control Station
Safety Mat
Power Leads
1 x Fan to Inflate (Power Required)
A Fun Expert 
Also Known As: Bucking Bronco, Mechanical Bull, Rodeo Ride
Users must be at least 1.2m tall or at least 10 years of age.
Equipment Size: 4.6m diameter x 1.6m high
Operational Area Required: 6.6m diameter x 2.6m high
Power: standard socket required (generator hire available 6.5kva)
Staff: trained operator provided
Number Of Users: 1
Recommended Age/Height of Users: Users must be at least 1.2m in height, or able to mount the Rodeo unassisted
Access Requirements: Please note that a width of 0.85m is required when moving the equipment through doorways and corridors. If you feel that access may be an issue, such as stairways or lift access, uneven surfaces, obstructions or perhaps long distances then please do not hesitate to mention this at the time of enquiry.
Speak to a Fun Expert today to discuss the bespoke upgrade options available from additional equipment, branding, prizes, props and theming. As we own all our own equipment we have the flexibility to adapt equipment to suit your requirements.
I have had 5 events through The Fun Experts. They all went really well and the staff were very helpful. I would definitely HIGHLY RECOMMEND!.
Sam Spencer
The highest compliment that I can pay to The Fun Experts and their excellent staff is that I have used them for my Fun Day for the past four years!
Barry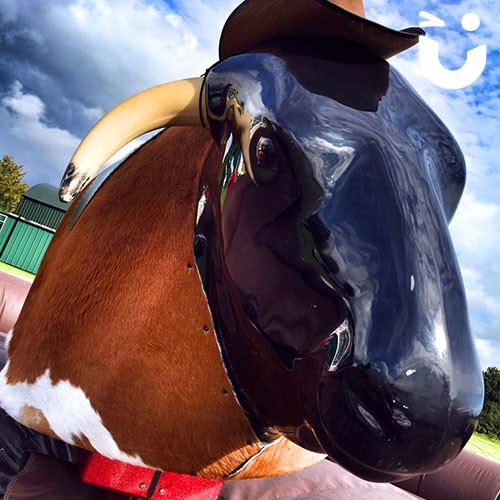 Rodeo Bull Hire has been added to your Event Quote.
Close
Call the Fun Experts to discuss your event: