Bouncy Castle (Event) Hire
Bouncy Castle (Event) Hire
They have many names, like Bounce House, Boingalow and Brinca Brinca (that's Spanish for Jump Jump!), but we just call them Bouncy Castles.  The inflatable structures so loved by children and adults all over the globe are ideal for outdoor (and some indoor) events and we have the biggest one of them all: the Event Bouncy Castle!
Allowing groups of up to 16 people to take part at once when you hire it, our large bouncy castle  is an impressive 7m wide inflatable that's brightly decorated in the The Fun Experts' colours of purple, pink and green and features stone effect patterns and lancet windows to turn this huge activity into a Medieval castle.  The safety mats provided on the front of the opening allow a soft exit for bouncing adults and children.
Safety is paramount at The Fun Experts, so our Bouncy Castles must always be supervised by a responsible adult, either one of our trained fun experts or you can look after the inflatable yourself.  And should the weather turn, we monitor wind speeds and would deflate the castle well before the recommended limits are reached.
What events are the Bouncy Castle (Event) Hire suitable for?
The Bouncy Castle (Event) Hire is such a classic and popular large inflatable that event organisers up and down the country are using them at all kinds of event that need to add a little bit of inflatable silliness!
Fun Days
Promotional Events
Charity Events
Birthday Parties
Children's Parties
University Events
Key Features of the Bouncy Castle (Event) Hire:
Up to 16 children or adults can bounce at any one time
A huge impressive inflatable
Can be manned by you, or our fun expert
Generator hire available
If you're planning a fun day or village fete and looking for that stand out piece to keep all ages entertained all day long, look no further than the Fun Experts - the UK's leading corporate event management specialists. 
Equipment included with Basketball Inflatable Hire:
1 x Bouncy Castle Inflatable
Power Leads
1 x Fan to Inflate (Power Required)
* At least one adult must provide close and direct supervision of users on the bouncy castle. Size and number of users must be adhered to at all times
Equipment Size: 7.1m wide x 5.8m deep
Operational Area Required: 8.1m wide x 6.8m deep
Power: standard socket required (generator hire available 6.5kva)
Staff: adult supervision required (staff hire available)
Number Of Users: 16
Recommended Age/Height of Users: All ages (although not at the same time)
Access Requirements: please note that a width of 0.82m is required when moving the equipment through doorways and corridors. If you feel that access may be an issue, such as stairways or lift access, uneven surfaces, obstructions or perhaps long distances then please mention this in your enquiry.
Speak to a Fun Expert today to discuss the bespoke upgrade options available from additional equipment, branding, prizes, props and theming. As we own all our own equipment we have the flexibility to adapt equipment to suit your requirements.
Our Fun Day was fabulous, enjoyed by many and we are so grateful to The Fun Experts for your input in making it such a special day!
Debbie Robinson
I have had 5 events through The Fun Experts. They all went really well and the staff were very helpful. I would definitely HIGHLY RECOMMEND!.
Sam Spencer
The highest compliment that I can pay to The Fun Experts and their excellent staff is that I have used them for my Fun Day for the past four years!
Barry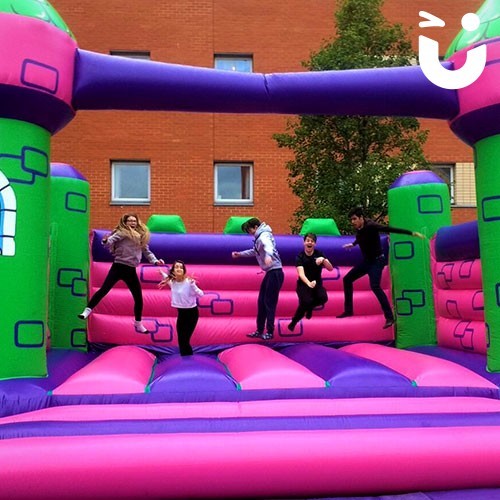 Bouncy Castle (Event) Hire has been added to your Event Quote.
Close
Call the Fun Experts to discuss your event: