Human Table Football Inflatable Hire
Human Table Football Inflatable Hire
Imagine if the classic Table Football game was done with real people - well, no need to imagine it anymore as we bring you the amazing Human Table Football Inflatable Hire! This amazingly quirky piece of inflatable fun is sure to impress everyone who attends your event, as well as those taking part.
With the ability to have up to 10 people taking part, two 5-a-side teams will compete against each other on this life-sized version of the table game.  Once inside the inflatable (enter via the goal), players strap themselves in, which restricts their movement to side-to-side motions only.  And if there are others attached to the same pole, there will need to be some communication and teamwork involved if you need to intercept the ball.
It's a great spectator game, as you look on in amusement as player can't organise themselves to move left or right to start with - but eventually, they figure it out and that's when things really heat up. The only way to win at this game is by working together - no "man of the match" awards here - it's "all for one and one for all"!
What events are the Human Table Football Inflatable Hire suitable for?
Are you looking to draw a crowd at your event and have lots of people play at once?  Then the Human Table Football Inflatable Hire is the one for you - it's great for:
Fun Days
Team Building Events
Promotional Events
Charity Events
School or College Events
University Events
Sports Events
Birthday Parties
Key Features of the Human Table Football Inflatable Hire:
10 players at once
2 options of inflatable available - for grassed or hard surfaces
Can be used in inclement weather
Can be refereed by a Fun Expert
The Human Table Football Inflatable Hire is an exhilarating game and the best way to get lots of people involved at once during your event - and no-one will be spinning the poles around too!
Equipment Included with Human Table Football Hire:
1 x Human Table Football Inflatable
6 x Poles
10 x Belt Strap (Red & Blue for two teams)
3 x Footballs
Power Leads
Fan to Inflate (Power Required)
(Optional) Fun Expert to referee the games
---
Equipment Size: 6.1m wide x 12.2m deep x 2.1m high
Operational Area Required: 8.1m wide x 14.2m deep x 2.1m high
Power: standard socket required (generator hire available 6.5kva)
Staff: adult supervision required (fun expert available)
Number Of Users: 10
Recommended Age/Height of Users: 7 years and over
Access Requirements: please note that a width of 0.82m is required when moving the equipment through doorways and corridors. If you feel that access may be an issue, such as stairways or lift access, uneven surfaces, obstructions or perhaps long distances then please mention this in your enquiry.
Speak to a Fun Expert today to discuss the bespoke upgrade options available from additional equipment, branding, prizes, props and theming. As we own all our own equipment we have the flexibility to adapt equipment to suit your requirements.
We have hired the Human Table Football for a school fair for the last 2 years running. Great fun for all ages, a definite crowd pleaser!
Alex Collins
Our Fun Day was fabulous, enjoyed by many and we are so grateful to The Fun Experts for your input in making it such a special day!
Debbie Robinson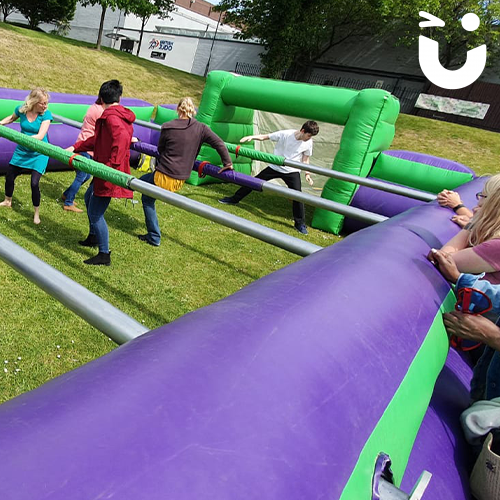 Human Table Football Inflatable Hire has been added to your Event Quote.
Close
Call the Fun Experts to discuss your event: