Pole Joust Inflatable Hire
Pole Joust Inflatable Hire
A great companion piece to our Gladiator Joust Inflatable, the Pole Joust Inflatable adds an extra element of danger as you need to keep your balance up on the pole.  The Pole Joust Inflatable Hire is an amazing game that will have your guests queueing up to challenge their friends, family and colleagues in a friendly game.
Armed with a 'basher' that looks something like a big bean bag, you'll need to first climb your way onto the pole and take your position - something that sounds far easier than it looks!  Once you're ready then let battle commence as you repeatedly try to knock your opponent from the pole and onto the soft inflatable bed.  If you find yourself the winner, then it's only right you get to do a little victory dance atop the pole!
The Pole Joust Inflatable Hire is suitable for children as young as 9, who can compete against their friends or siblings in an attempt to become the Pole Jousting champion; adults can have a go once the children have finished, donning the safety helmets before trying to knock each other onto the inflatable bed.
What events are the Pole Joust Inflatable Hire suitable for?
The Pole Joust Inflatable will have our guests in fits of laughter as they watch their friend and colleagues swinging their bashers around trying, so it's great for all kinds of events that include a competitive element.
Fun Days
Corporate Events
Charity Events
Promotional Events
Weddings and Hen/Stag Parties
School / University Events
Team Building
Birthday Parties
Children's Parties
Key Features of the Pole Joust Inflatable Hire:
Suitable for children and adults from 9 years old and up
We supply the Safety helmets and bashers
Can be supervised by a trained fun expert or you can run it yourself
The Pole Joust Inflatable Hire will have everyone lining up eager to bop and bash their opponents onto the inflatable bed, so give your event the Sunshine treatment by calling the Fun Experts today!
Equipment Included with Pole Joust Hire:
1 x Pole Joust Inflatable
1 x Pole
2 x Safety Helmets
2 x 'Bashers'
4 x Safety Mats
Power Leads
Fan to Inflate (Power Required)
---
Equipment Size: 4.0m wide x 4.0m deep x 2.1m high
Operational Area Required: 6.0m wide x 6.0m deep x 3.1m high
Power: standard socket required (generator hire available 6.5kva)
Staff: adult supervision required (staff hire available)
Number Of Users: 2
Recommended Age/Height of Users: 9 years and over
Access Requirements: please note that a width of 0.82m is required when moving the equipment through doorways and corridors. If you feel that access may be an issue, such as stairways or lift access, uneven surfaces, obstructions or perhaps long distances then please mention this in your enquiry.
Speak to a Fun Expert today to discuss the bespoke upgrade options available from additional equipment, branding, prizes, props and theming. As we own all our own equipment we have the flexibility to adapt equipment to suit your requirements.
The highest compliment that I can pay to The Fun Experts and their excellent staff is that I have used them for my Fun Day for the past four years!
Barry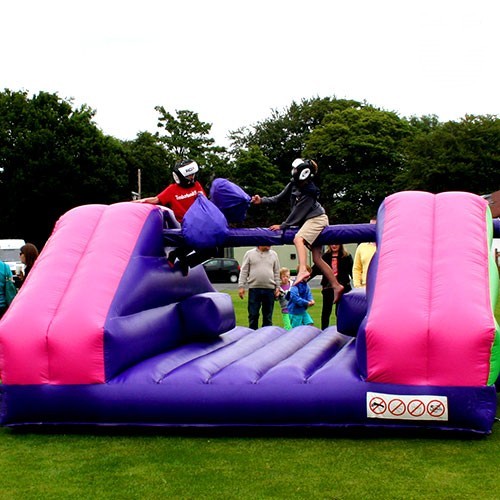 Pole Joust Inflatable Hire has been added to your Event Quote.
Close
Call the Fun Experts to discuss your event: