Inflatable Slide Hire
Once you try out our option for Inflatable Slide Hire, you won't ever want to miss it at your event. Standing at an immense 20 foot high and decorated in bright pink, green and purple, the mammoth slide draws the attention of everyone at the event it visits. And with good reason too: it's not just its giant size that makes the Inflatable Slide a popular attraction; it's the hours of fun that can be had as you climb the mountain of steps to the top and make that journey down the slide!
Once you reach the bottom of the Inflatable Slide, you'll soon find yourself rushing back to the top for another chance to career down the slide on your bum… again and again! This massive inflatable is huge fun for everyone involved - time will surely fly by at your event as guests lose themselves in the cycle of climbing and sliding.
Due to its size, we always ensure that the Inflatable Slide Hire comes with a fun expert to ensure safe operation of the equipment and that there aren't too many people stood at the top waiting to come down the slide.  Safety is paramount to The Fun Experts and, more importantly, to your event.
What events are the Inflatable Slide Hire suitable for?
The Inflatable Slide Hire will make for a stunning sight at your event and you will find that even this most simple of inflatables can provide you with hours of fun!
Family Fun Days
Team Building
University Events
Community Events
Bar Mitzvahs / Bat Mitzvahs
Promotional Events
Charity Events
Weddings
Birthday Parties
Key Features of the Inflatable Slide Hire:
20 foot tall inflatable
Always staffed by a fun expert
Safety mats included
Slide your way to fun on the Inflatable Slide and you won't have any doubts about this superb activity - in fact, you won't able to stop yourself from having another go!
Equipment Included with Inflatable Slide Hire:
1 x Inflatable Slide
Safety Mats
Power Leads
1 x Fan to Inflate (Power Required)
Equipment Size: 3.2m wide x 7.6m deep x 6.0m high
Operational Area Required: 5.2m wide x 9.6m deep x 6.0m high
Power: standard socket required (generator hire available 6.5kva)
Staff: trained operator provided
Recommended Age/Height of Users: 5 years and over
Access Requirements: please note that a width of 1.3m is required when moving the equipment through doorways and corridors. If you feel that access may be an issue, such as stairways or lift access, uneven surfaces, obstructions or perhaps long distances then please mention this in your enquiry.
Speak to a Fun Expert today to discuss the bespoke upgrade options available from additional equipment, branding, prizes, props and theming. As we own all our own equipment we have the flexibility to adapt equipment to suit your requirements.
The highest compliment that I can pay to The Fun Experts and their excellent staff is that I have used them for my Fun Day for the past four years!
Barry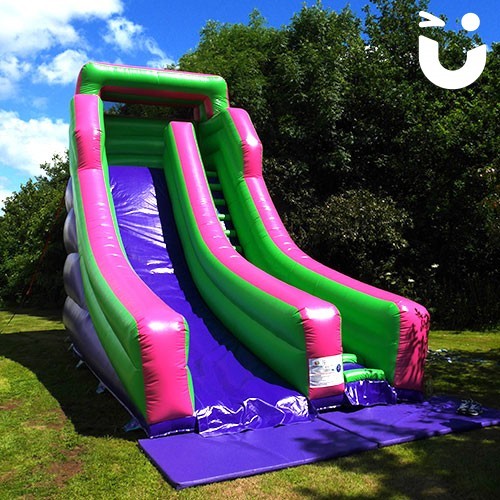 Inflatable Slide Hire has been added to your Event Quote.
Close
Call the Fun Experts to discuss your event: