Life Size Pin Art
Here at The Fun Experts, we are almost positive that at some point in time you've had a play with the classic 'Pin Art' where you've made a hand imprint, or maybe even a face imprint? But what if we were to tell you that we had one... only 10x bigger?
Big enough to make a full body imprint! Whether you want to capture a particular moment suspended in 3D or just reenact the famous Star Wars scene of Han Solo frozen in carbonite, the only limitations are your imagination.
Measuring over 6ft foot high and with tens of thousands of plastic pins, your guests will have the opportunity to forever immortalise their full body imprint in pin art - unless it becomes a historic art piece or another guest decides they want ago (but then don't forget to take your selfie with your work of art!).
What events are the Life Size Pin Art Hire suitable for?
Thanks to it's size and unique style of fun, this eye catcher of event equipment hire is perfect for:
Exhibitions
Promotional Events
Corporate Events
Evening Functions
Shopping Centre Promotions
University Events
...and many more!
Key Features of the Life Size Pin Art Hire:
Endless fun to be had
Outlines facial expressions, props or particular clothing items
Space for up to two people
This is sure to be an unquestionable hit with all generations!
Equipment Size: 1m wide x 0.9m deep x 1.9m high
Operational Area Required: 2m wide x 2m deep x 1.9m high
Power: No power required - just a fun, imaginative pose and a bit of pressure!
Number Of Users: 1
Recommended Age/Height of Users: Suitable for Ages 6 and over
Speak to a Fun Expert today to discuss the bespoke upgrade options available from additional equipment, branding, prizes, props and theming. As we own all our own equipment we have the flexibility to adapt equipment to suit your requirements.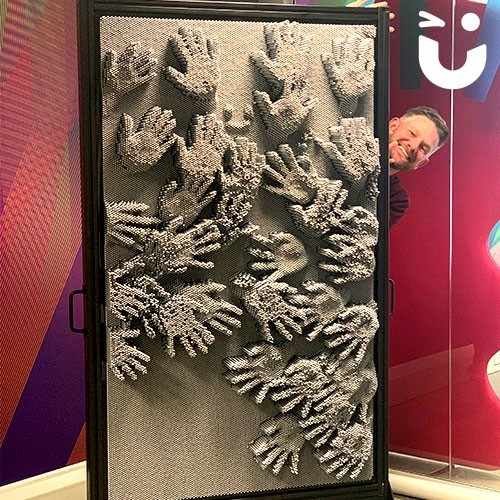 Life Size Pin Art has been added to your Event Quote.
Close