Snake Pit - Table Top Bar Game
Snake Pit - Table Top Bar Game
Our selection of Table Top Games are perfect for a variety of events where you want to introduce some healthy competition.
The Snake Pit Table Top Game is an addictive challenge that see's guests try and weave the ball from the top of the table, down to the goal area. But be careful - there are obstacles along the way and in order to move the ball down the hill you need to use balance and skill as you tilt the table left to right.
This table top challenge is inspired by a carnival classic and is sure to bring fun to your event. Whether introducing a time out incentive to the office for some fun at work and team building, or looking to pull in guests at your promotional event, one thing is clear: This striking table top game is sure to entertain! 
What events are the Snake Pit - Table Top Bar Game Hire suitable for?
Fun Days
Promotional Events
Charity Events
School Events
University Events
Sports Events
Team Building
Equipment included with Snake Pit Table Top Bar Game Hire:
Snake Pit Table Top Game
Table and skirt
Snake Pit Balls 
Please note that a width of approximately 0.7m is required when moving the equipment through doorways and corridors. If you feel that access may be an issue, such as stairways or lift access, uneven surfaces, obstructions or perhaps long distances then please mention this in your enquiry.
Speak to a Fun Expert today to discuss the bespoke upgrade options available from additional equipment, branding, prizes, props and theming. As we own all our own equipment we have the flexibility to adapt equipment to suit your requirements.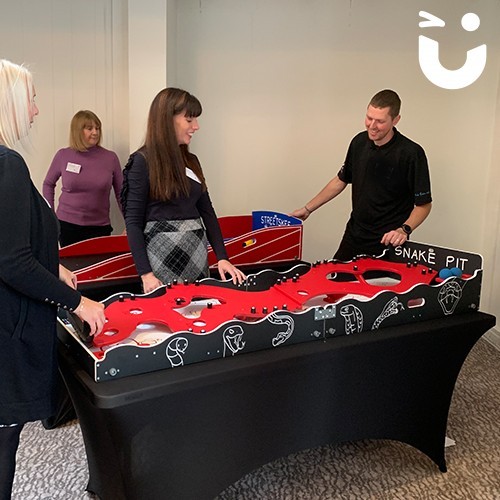 Snake Pit - Table Top Bar Game has been added to your Event Quote.
Close