Star Maze Runner Challenge
Star Maze Runner Challenge
A fantastic addition to the range of game challenges is the Star Maze Runner Challenge. Available to hire for all event types, you and your guests are going to quickly be addicted to this fun, kinetic piece of entertainment.
The challenge is simple...on paper. As players simply guide the ball from start to finish within the maze. Using the wheel for direction, you'll rotate the maze a full 360, left or right as you try to navigate the right path and place your ball in the finish hole.
And to add to the fun of the challenge, you can time your attempt as you compete against others.
What events are the Star Maze Runner Hire suitable for?
This is fun for one and fun for all, perfect for a whole host of event types including:
Exhibitions
Team Building
Employee Engagement
Fun Days
Promotional Events
University Events
Fun At Work
...and more!
Key Features of the Star Maze Runner Hire:
Self contained fun
No power required - the timer operates off a 9v battery
A competitive challenge that needs to be revisited again and again as guests compete
Equipment Included with Star Maze Runner Challenge Hire:
Star Maze Challenge
Self supporting stand
9v Battery for timer
Equipment Size: 1.0m wide x 0.65m deep x 2.04m high
Operational Area Required: 1.0m wide x 1.5m deep x 2.04m high
Magnetic Score Tower - keep track of the high score with the Magnetic Score Tower, a great way to keep track of everyones score throughout your event. 
When speaking to the Fun Experts today, don't shy away from asking how you can upgrade your event package.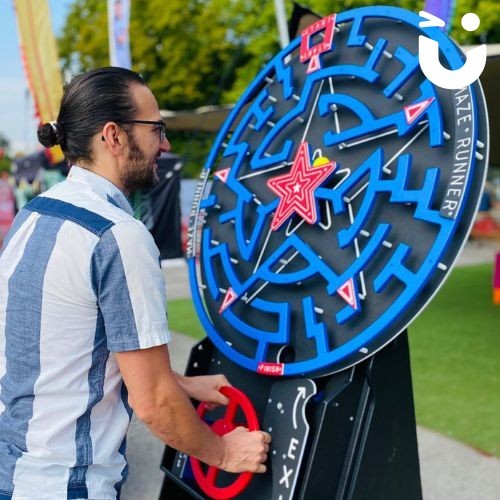 Star Maze Runner Challenge has been added to your Event Quote.
Close