Strike a Light Hire
Consider yourself the fastest draw in the west? Maybe you need to settle an office bet? Whatever the case may be, our Strike a Light aims to settle the score. This head-to-head game is perfect for setting up tournaments or good ol' last man standing. It is important to note that this game is highly addictive and therefore will most certainly draw in a lot of guests.
One of the great things about Strike a Light is that it is just as intense watching from the sideline as it is playing! Whether you just want to see who has the fastest reactions, or you fancy a full-on head-to-head (for who's making the brews), at the flick of a switch you can go from Strike a Light to the VS mode of Strike it Back.
What events are the Strike A Light Hire suitable for?
With its competitive edge and addictive nature, you're about to give your employees or guests the perfect opportunity to have some friendly competition. Suitable for a variety of events, you can hire the Strike A Light for:
Exhibitions and Promotional Events - where it is sure to grab the attention of visitors giving you the chance to promote your stall
Corporate Events - indoor Team Building events or office engagement are both perfect events for the Strike A Light
Evening Functions
Christmas Parties
Shopping Centre Promotions
University Events
...and many more!
Key Features of the Strike A Light Hire:
Two Different games modes - Strike A Light features 30 seconds of non stop light bashing as users compete to strike the most number of lights OR Strike it Back in which each player starts with 5 lights and has to knock their light over to the opposing player. First player to strike all their light to the other player WINS!)
LED Scoreboard and Timer display
Bespoke branding available
2 Players or 2 teams of 2 can compete!
What's included with the Strike A Light Hire:
1 x Strike A Light station
Power Lead
It's that simple, the beauty of this fantastic piece of entertainment is all the fun is contained in a single game station and is no less entertaining for it as your guests compete all day and all night long on with this addictive challenge.
---
Equipment Size: 1.2m wide x 1m deep
Operational Area Required: 2.2m wide x 2m deep
Power: access to one 13amp standard socket required (generator hire available)
Staff: adult supervision required (Fun Expert hire available)
Number Of Users: Up to 4 at a time
Access Requirements: please note that a width of 0.82m is required when moving the equipment through doorways and corridors. If you feel that access may be an issue, such as stairways or lift access, uneven surfaces, obstructions or perhaps long distances then please mention this in your enquiry.
How can you upgrade a highly fun, crowd pleasing piece of entertainment. Well...
Bespoke Branding - Strike A Light is perfect for Exhibitions and Promotional Events. The fun of the challenge will drawer in crowds and when faced with the fun of the game, they can also be drawn to your own branded Strike A Light. The skirt of the game is open to showcasing your brand / logo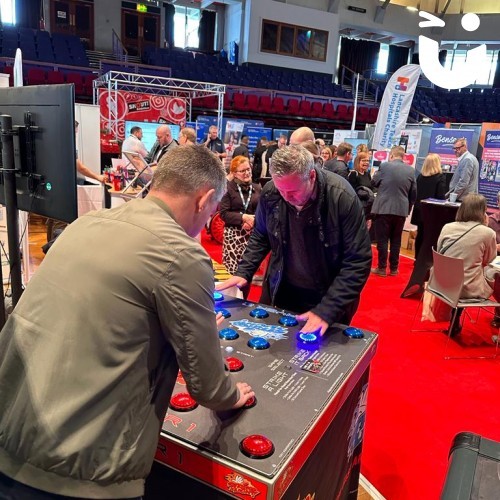 Strike a Light Hire has been added to your Event Quote.
Close