Giant Plinko
A giant take on the classic game.
Simply drop the coloured disks from the top and watch as they tumble between the metal pegs before landing in a numbered slot. The highest scoring player will become the champion, as you debate whether Plinko is a purely a game of luck or requires real skill and strategy.
The simple but entertaining game is the perfect way to rejuvenate your workplace or attract guests to your exhibition stand 
What events is Giant Plinko Hire suitable for?
Promotional Events
University Events
Employee Engagement
Team Building
Exhibitions
Equipment Included in Giant Plinko Hire:
Giant Plinko Game
Coloured Plinko Disks
Equipment Size: 1.0m wide x 1.2m deep x 1.8m high
Operational Area Required: 1.2m wide x 1.8m deep x 2.0m high
Power: N/A
Staff: 1 x Fun Expert required / Adult supervision required
Number Of Users: 1
Recommended Age/Height of Users: 5+
Access Requirements: Please note that a width of approximately 0.7m is required when moving the equipment through doorways and corridors. If you feel that access may be an issue, such as stairways or lift access, uneven surfaces, obstructions or perhaps long distances then please mention this in your enquiry.
Speak to a Fun Expert today to discuss the bespoke upgrade options available from additional equipment, branding, prizes, props and theming. As we own all our own equipment we have the flexibility to adapt equipment to suit your requirements.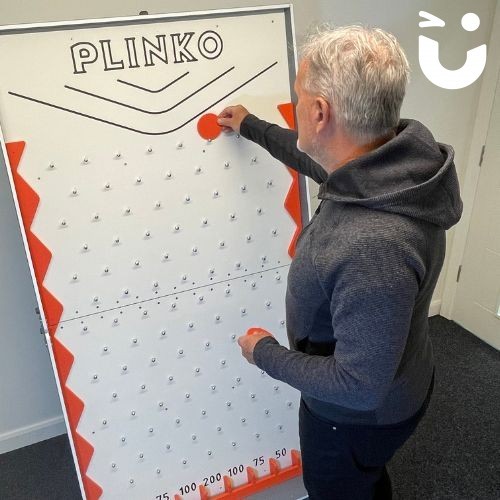 Giant Plinko has been added to your Event Quote.
Close