Arcade Machine Hire
You're about to experience some serious nostalgia with the Arcade Pro Jupiter 3442 Retro Arcade Machine. With 3442 retro arcade games to choose from - with classics that include Pacman, Space Invaders, Mortal Kombat, Tekken and so many more - this Arcade Machine is a sure fire hit for your event.
This Arcade Machine is made by the best in the industry and one of the newest to be welcomed to the retro gaming world.
Feeding the nostalgia we all have for the 80's and early 90's gaming experience, nothing can beat the classic game play of an arcade machine. With unlimited time - no having to root in your pockets for change or getting tokens from the kiosk - and a fantastic collection of game choices, up to two people can either go head to head or guests can go it alone for a retro experience.
With a crisp LED display, classic joystick and buttons for game play and a gaming cabinet adorned in fantastic graphics, guests will love the interaction with your entertainment choice.
What events is the Arcade Machine Hire suitable for?
Whether you spent hours at the local arcade as a kid or fancy yourself a modern day gamer, the Arcade Machine is a favourite for all. Inviting fun competition for families, friends and colleagues, with it's endless selection of classic arcade games, it's the perfect choice for your event and available to hire for:
Employee Engagement
Corporate Events
Exhibitions
Promotional Events
Shopping Centre Promotions
Key Features of the Arcade Machine Hire:
High-quality upright arcade machine
3442 classic arcade games all in one
Beautiful 19" screen at 4:3 resolution for classic gaming
hours on endless fun
multiplayer - take on a friend / colleague or go it alone
No need to provide supervision
 If you're a little tight on space, then be sure to check out our table top variants of the classic arcade experience right here. 
Whats included with the Arcade Machine Hire:
1 x Jupiter 3442 Arcade Machine
3442 retro games to choose from 
Power Leads
Equipment Size: 0.65m wide x 0.75m deep x 1.76m high
Operational Area Required: 1.9m wide x 2.2m deep x 1.8m high
Power: access to one 13amp standard socket required
Staff: adult supervision required (Fun Expert hire available)
Number Of Users: up to 2 players at any one time
Recommended Age/Height of Users: 4 years and over
Access Requirements: please note that a width of approximately 0.82m is required when moving the equipment through doorways and corridors. If you feel that access may be an issue, such as stairways or lift access, uneven surfaces, obstructions or perhaps long distances then please mention this in your enquiry.
Speak to a Fun Expert today to discuss the bespoke upgrade options available from additional equipment, branding, prizes, props and theming. As we own all our own equipment we have the flexibility to adapt equipment to suit your requirements.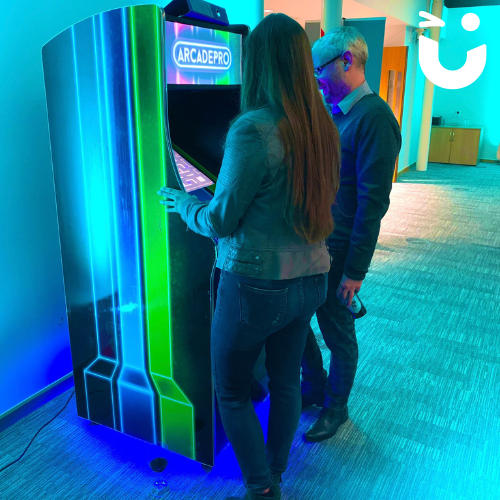 Arcade Machine Hire has been added to your Event Quote.
Close