Batak Lite Hire
Whilst the Batak Pro offers hours of endless fun, sometimes you need something a little more compact for your venue: enter the Batak Lite!  Featuring 8 light-up buttons, this space saving entertainment will still give your guests a challenge as they dart back and forth in their attempt to extinguish all the lights.  
Much like the Batak Pro, the Lite version can be easily branded using a printed foamex backboard designed to promote your idea, company or brand.  You can be sure that players will take in the image that you're trying to convey as they frantically zig-zag about, trying to complete the intensive reflex-testing game.  You can set the timer to 30 or 60 seconds, or use one of the preset programs, to bamboozle players.
Scores are registered via the light-up display, so if you wish to run the Batak Lite as a competition throughout your event, you can record scores and even display them on the optional Magnetic Score Tower - just like in Top Gear!  And there's always a chance to better your score as players will be coming back time and again!
What events are the Batak Lite Hire suitable for?
The Batak Lite is a fabulously entertaining piece of equipment, and perfect for all kinds of events, particularly:
Exhibitions
Promotional Events
University Events
Sports Events
Birthday Parties
Bar Mitzvahs / Bat Mitzvahs
Corporate Evening and Office Events
Charity Events
Shopping Centre Promotions
Key Features of the Batak Lite Hire:
Compact design suitable for even the tightest of layouts
Can be staff by a fully trained Fun Expert or you can run it yourself
A variety of games to play that test speed, hand-eye co-ordination, thinking and more
Suitable for all ages and abilities
Can be branded for exhibition and promotions
Used by sports players to increase hand-eye coordination etc
Hit the target and you'll be onto a winner with the Batak Lite - the high-energy reaction game sure to stand out at your event!
Equipment included with Batak Lite Hire:
1 x Batak Lite
13 amp power lead
Equipment Size: 1.2m wide x 1.0m deep x 1.8m high
Operational Area Required: 2.2m wide x 2.0m deep x 2.2m high
Power: standard socket required (generator hire available)
Staff: adult supervision required (staff hire available)
Number Of Users: 1
Recommended Age/Height of Users: 4 years and over
Access Requirements: please note that a width of 0.82m is required when moving the equipment through doorways and corridors. If you feel that access may be an issue, such as stairways or lift access, uneven surfaces, obstructions or perhaps long distances then please mention this in your enquiry.
As a feature at Corporate Event and Exhibitions / Promotional Events, the Batak Lite is a stand out feature.  When promoting your company brand, we can help you add another feature to allow you to truly stand out:
Bespoke brandable backboard - the Batak Lite makes for a great blank canvas to add a fully branded back board that will surely catch the eye of guests and passersby
Speak to a Fun Expert today to discuss how you can benefit from these bespoke features for your event.
The addition of the Batak to our stand added an air of interest and excitement to the show, it became the talking point of the exhibition, our only concern now is how do we top it next year!
Matthew Webb
No amount of thanks can show how grateful I am to The Fun Experts! Staff on the day really helped take the stress away from planning an event for over 500 people!
Amy Candler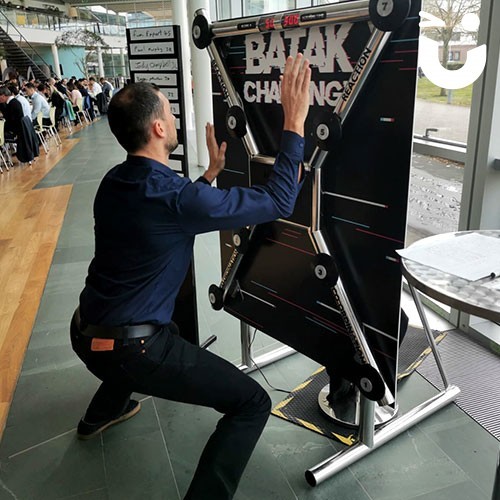 Batak Lite Hire has been added to your Event Quote.
Close