Ballnado Grabber Hire
I don't know about you, but I've always wondered what it would be like to live inside one of those big ball-picking machines that they used on the National Lottery.  It really has been my life's dream to be one with the balls and experience it firsthand.
Well… NOW I CAN!  And you can too!  With the amazing Ballnado Grabber Hire! Much like our Cash Grabber, the Ballnado Grabber is ideal for fun events that need that extra bit of "umph" and a bit more excitement thrown in for good measure.  You'll probably find the Ballnando works well at exhibitions and promotional events because you can create all kinds of fun games where prospective clients can test their ball grabbing skills and win themselves a prize.
Stepping in to the whirlwind that is the grabber cylinder, guests will be blown away (almost literally!) by how much fun and competitive this fantastic hire is for your event. Trying to grab the balls may be easy but keeping hold of them until the end of the timer is a whole different challenge! 
What events is the Ballnado Grabber Hire suitable for?
The Ballnado Grabber has everything you need to astound the crowds and give the player a real workout as they try and grasp the balls flying around them. It really is a piece of fun equipment hire for all events such as:
Corporate Events
Exhibitions / Promotional Events
University Events
Fundraising Events
Christmas Parties
School Events
Key Features of the Ballnado Grabber:
A striking visual game, that's a bit trickier than the Cash Grabber
You can adapt the challenge to suit your event and alter the time/length of the challenge
Branding options available on the booth
We can even use branded balls!
So step into the Ballnado Grabber and give your event the Sunshine treatment with this amazing game!
Equipment included with the Cash Grabber:
1 x Ballnado Grabber machine
Power cables
Cable covering
1 x Fan
Lots and lots of balls
1 x Fun Expert
---
Equipment Size: 1.6m wide x 1.6m deep x 2.4m high
Operational Area Required: 2.6m wide x 2.6 m deep x 2.5m high
Power: standard socket (generator hire available)
Staff: fully trained Fun Expert provided
Number Of Users: 1
Recommended Age/Height of Users: 5 years and over
Access Requirements: please note that a width of 0.82m is required when moving the equipment through doorways and corridors. If you feel that access may be an issue, such as stairways or lift access, uneven surfaces, obstructions or perhaps long distances then please mention this in your enquiry.
We can tailor the Ballnado Grabber to your event with some fantastic upgrade options as detailed below:
Bespoke brandable balls - perfect for Exhibitions / Promotional Events, we can offer bespoke balls that guests grab and collect when inside the Ballnado Grabber
Bespoke branding of the Ballnado Grabber - we can add vinyl stickering to the external of the Ballnado Grabber or brand complete panels, adding a massive eye catching detail to this great product.
Speak to a Fun Expert today to discuss how you can benefit from these bespoke features for your event.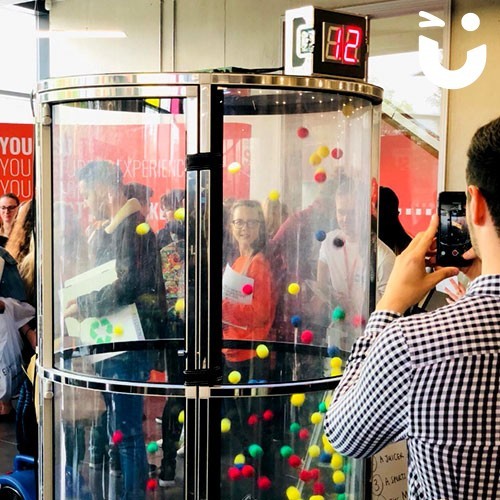 Ballnado Grabber Hire has been added to your Event Quote.
Close