Nintendo Switch Hire
The evolution of Nintendo since the 80's has been a rollercoaster.  After the release of the NES, Nintendo created one of the best consoles ever released in the SNES, which was then followed by the even more impressive, generation defining N64.  Nintendo have always been about fun, family game play, and despite a few hiccups along the way - the less said about the Gamecube, the better - Nintendo have always tried to stay ahead of the competition without losing its heart.
After bringing you the Nintendo Wii for hire, which has served events well for nearly ten years, we now have the Nintendo Switch.  This little machine will see it added to every birthday and Christmas wish list, so we thought we'd give you the chance to see what all the fuss is about.
Featuring impressive graphics and gamer interaction, the Switch has brought an immersive experience to gamers, more so than the Wii.  Hired with our purpose built TV Unit, this slick 'station' is perfect to show off the fun to be had.  Played on an ultra high definition, 43" television, your guests will be wowed by the graphics on show, the ease of gameplay and the massive amounts of fun for all ages.
There are plenty of games to choose from as well, such as:
Mario Kart 8 Deluxe - the staple of any Nintendo Console, this classic has been revamped with new characters, courses and a whole range of karts.  Up to four players can compete as you race around funky, creative race tracks and battle it out to take the trophy!
1-2 Switch - a brave move with this one as very little happens on screen, instead guests will be in hysterics as players try and compete in challenges that include plate spinning, dance off, wand battles and so many more (a favourite amongst the Fun Experts!).  Using just the joy-con, you'll be busting shapes and moves you never knew you had
Bomberman - this 80's classic receives the modern day Switch touch up of hi-res graphics as up to four players take part in this maze based game and try to eliminate one another
...more are available upon request
What events is the Nintendo Switch Hire suitable for?
The Switch is a perfect choice for all ages as it invites harmless fun and gameplay.  Guests will be laughing with one another and be in fits of complete joy, whether playing at:
Promotional Events
Corporate Events
Exhibitions
Weddings
School / University Events
Birthday Parties
Conference
Bar & Bat Mitzvahs
Key Features of the Nintendo Switch Hire:
Purpose built TV unit
A selection of fun, family friendly games
Multiple controllers for up to 4 people to take part
Bespoke branding available
Having a product that entertains all demographics can be hard to come by, that's why the Nintendo Switch makes for the perfect addition to all events.  You can be sure that after you invite the Fun Experts to your event, you'll have made the right choice in this brilliant product.
43" UHD TV, within our purpose built TV Unit - which is open to the upgrade of bespoke branding for your event
Multiple games to choose from and play
---
Equipment Size: 1.1m wide x 0.6m deep x 2.0m high
Operational Area Required: 2.1m wide x 2.6m deep x 2.0m high
Power: standard socket (generator hire available)
Staff: adult supervision required (Fun Expert hire available)
Number Of Users: upto 4 players
Recommended Age/Height of Users: 5 years and over
Access Requirements: please note that a width of 0.82m is required when moving the equipment through doorways and corridors. If you feel that access may be an issue, such as stairways or lift access, uneven surfaces, obstructions or perhaps long distances then please mention this in your enquiry.
Already packed with fun for your event, another element can be added to your hire of the Nintendo Switch with these upgrade options: 
Bespoke Branding - the Unit that houses the display screen,already slick in it's design, is the perfect canvas to add your brand. Through vinyl stickering, you can really stand out with this hire.
Games - already supplied with some of the best games that the Nintendo Switch has to offer, we can upgrade the hire to feature a game better suited to your event.
When discussing your hire of the Nintendo Switch, be sure to enquire with the Fun Experts about these upgrade options and how we can bring another level of excitement to your event.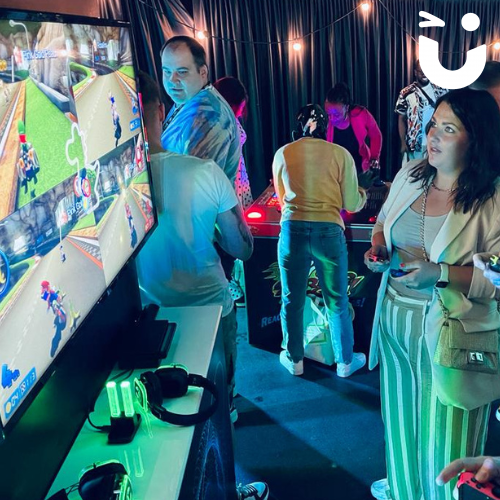 Nintendo Switch Hire has been added to your Event Quote.
Close