Maze Runner Challenge
It's time to test you skills with the Maze Runner challenge. Hand eye co-ordination is key with this popular challenge, as is speed and patience!
The object of the challenge sounds simple - the ball enters the top of the maze and you simply need to navigate through the maze by spinning the large dial, which rotates the maze round! But you'll quickly find that it becomes a labyrinth of fun and your competitive edge comes out as you race against the clock.
The Maze Runner challenge is perfect to introduce some fun at work in the office and invite some healthy competition amongst your employees. Drawer in the crowds at your promotional event, with it's stand out appearance and fun design you're sure to make conversation! 
Available to hire now for a variety of events, the maze runner challenge, inspired by classic carnival games found at funfairs, offers plenty of fun and it's addictive nature only adds to the appeal.
What events are the Maze Runner Hire suitable for?
Promotional Events
Exhibitions
Office entertainment
Employee Engagement
Product Launches
Fun At Work
Team Building
Equipment included with Maze Runner Hire:
Maze Runner challenge
Balls
Equipment Size: 1.0m wide x 1.2m deep x 1.8m high
Operational Area Required: 1.2m wide x 1.8m deep x 2.0m high
Power: 9v Battery
Staff: 1 x Fun Expert required for set up
Number Of Users: 1
Recommended Age/Height of Users: 5+
Access Requirements: Please note that a width of approximately 0.7m is required when moving the equipment through doorways and corridors. If you feel that access may be an issue, such as stairways or lift access, uneven surfaces, obstructions or perhaps long distances then please mention this in your enquiry.
Speak to a Fun Expert today to discuss the bespoke upgrade options available from additional equipment, branding, prizes, props and theming. As we own all our own equipment we have the flexibility to adapt equipment to suit your requirements.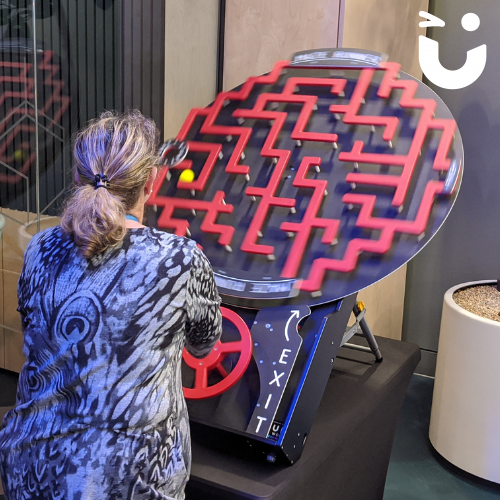 Maze Runner Challenge has been added to your Event Quote.
Close
Call the Fun Experts to discuss your event: