Putting Golf
Mini golf - who doesn't love the fun and challenge of taking that golf ball and aiming for a hole in one! Well we're definitely on par with the Indoor mini Putting Golf challenges.
The Mini Putting Golf lanes are a fantastic addition to events. Their slick design and the challenge that each lane presents is the perfect appeal to invite guests to take on the challenge.
If you're looking to invite fun at work for your employees and to invite some healthy competition, then the Indoor Mini Putting Golf lanes, each with their own unique obstacle, are a shot in the right direction!
What events are the Indoor Mini Putting Golf Hire suitable for?
Promotional Events
Team Building
Fun At Work
Exhibitions
Corporate Functions
Employee Engagement
Equipment included with Indoor Mini Putting Golf Hire:
There are 3 options to choose from - 3 Course / 6 Course / 9 Course
Golf balls
Golf clubs
Please note that a width of approximately 0.7m is required when moving the equipment through doorways and corridors. If you feel that access may be an issue, such as stairways or lift access, uneven surfaces, obstructions or perhaps long distances then please mention this in your enquiry.
Equipment Size: 0.60m wide x 2.4m deep x 0.3m high
Speak to a Fun Expert today to discuss the bespoke upgrade options available from additional equipment, branding, prizes, props and theming. As we own all our own equipment we have the flexibility to adapt equipment to suit your requirements.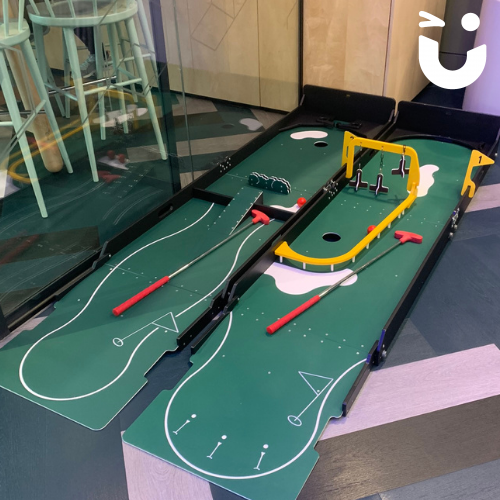 Putting Golf has been added to your Event Quote.
Close