Mega Buzz Wire Hire
Much like our table-top Buzz Wire games, the Mega Buzz Wire requires you to move your metallic wand from one end of the wire to the other without touching the two together and making that dreaded buzzing noise ring out.
The Mega Buzzwire is a bigger affair though. Able to stand on the ground or on a table top for even more of a challenge at height, the Mega Wire offers more of a competitive edge as it's bigger, longer and everyone wants to beat the beep!
We all know the challenge well from fun fairs and carnivals - a game suitable for all ages. From Team Building and Employee Engagement activities to fun at home, the Mega Buzz Wire Challenge is mega fun!
What events are the Mega Buzz Wire Hire suitable for?
Team Building
Employee Engagement
Fun Days
University Events
Sports Events
Promotional Events
Birthday Parties
Bar & Bat Mitzvahs
Exhibitions
Corporate Events
Charity Events
Equipment Included with Mega Buzz Wire Hire:
1 x Mega Buzz Wire Base
1 x Handheld Wand
Power Lead 
Equipment Size: 1.17m wide x 0.44m deep x 1.20m high
Operational Area Required: 1.50m wide x 1.50m deep x 2.00m high
Access Requirements: please note that a width of 0.82m is required when moving the equipment through doorways and corridors. If you feel that access may be an issue, such as stairways or lift access, uneven surfaces, obstructions or perhaps long distances then please mention this in your enquiry.
Speak to a Fun Expert today to discuss the bespoke upgrade options available from additional equipment, branding, prizes, props and theming. As we own all our own equipment we have the flexibility to adapt equipment to suit your requirements.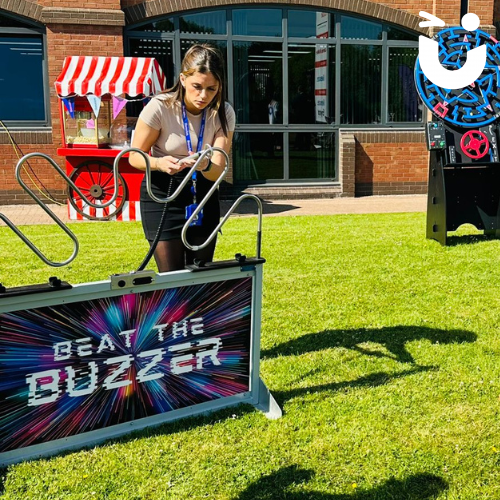 Mega Buzz Wire Hire has been added to your Event Quote.
Close