Pixel Play
Remember playing Tetris on your old GameBoy? How about the absolute classic Snake on your indestructible Nokia 3310? Now you can enjoy both those games as well as Pixel Paint and Pixel Paddles on our newest addition, PIXEL PLAY!
With 4 games included and player vs player modes, you and your guests are going to be busy for hours! Or until your significant other pulls the plug.
Pixel Python: Inspired by what was the first mobile phone addiction - it was initially used ona mobile phone than text messaging, the aim of the game is simple: be sure to keep feeding the Pixel Python but be careful of hitting those walls or its Game Over! Available as a single player of 2 players can go head to head.
Pixel Pieces: i.e Tetris. As the Pixel Pieces fall, stack them nice and neatly to gain points (OCD mode engaged). The more points you score the more the speed slowly increases bringing an extra level or pressure to the challenge.
Pixel Paddles:  Not to take the glory away from our very own Atari Pong Table, Pixel Paddles is also based on the 70's classic. Use your joysticks to bat the Pixel to the other player and hit their wall to score a point. Careful not to concede to your opponent, otherwise you cost yourself a point, 3 points and its Game Over Man!
Pixel Paint: Show your inner Banksy with the Pixel Paint. Select your own colours and then use the joystick to move and place the Pixel to where your artistic flare deems necessary.
What events is the Pixel Play Hire suitable for?
It's retro feel is sure to entice your guests at a variety of events. Its flashing, large display will catch their eye and the interactive gameplay will keep then entertained, whether they're visiting you at:
Exhibition and Promotional Events
Corporate Events
Evening Functions
Christmas Parties
Shopping Centre Promotions
University Events
...and many more!
Key Features of the Pixel Play Hire:
674 individual light up Pixels
Great competitive play
Go solo or in to battle mode as up to 2 players can compete
Classic retro games
What's included with the Pixel Play Hire:
Pixel Play Display
2 Player Joy-Control Unit
Display Stand
Power Leads
---
Equipment Size: 0.9m wide x 1.2m deep x 1.8m high
Operational Area Required: 1.9m wide x 2.2m deep x 1.8m high
Power: access to one 13amp standard socket required
Staff: adult supervision required (Fun Expert hire available)
Number Of Users: 1 or 2
Recommended Age/Height of Users: 5 and above
Access Requirements: please note that a width of 0.85m is required when moving the equipment through doorways and corridors. If you feel that access may be an issue, such as stairways or lift access, uneven surfaces, obstructions or perhaps long distances then please mention this in your enquiry.
Speak to a Fun Expert today to discuss the bespoke upgrade options available from additional equipment, branding, prizes, props and theming. As we own all our own equipment we have the flexibility to adapt equipment to suit your requirements.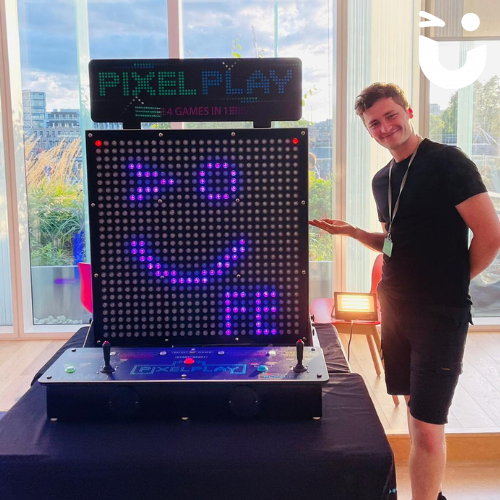 Pixel Play has been added to your Event Quote.
Close