Giant Operation Hire
Another game in our amazing range of Giant Games, takes its cue from one of the most popular tabletop games of the 1980s: Operation! Scaled up from the original size, the Giant Operation comes on an, almost full-sized, operation table with medical skirting around the base to hide the legs.
It's then your task to remove all the parts from the body, without allowing your tweezers to touch the metal edges. Starting with the Adam's Apple, you'll also need to remove two Tennis Elbows, the elasticated Tendons and the (Toast) Rack of Ribs! Your heart will be in your mouth as you try and remove the Heart in his Mouth too!  Finally there's a Bladder Bucket and you're all done!
Don't let the pressure get to you as you gingerly insert your tweezers into each opening to grab the body parts, as you've only got 3 'lives' to remove everything. If you don't succeed in your task, he's a goner!
What events are the Giant Operation Hire suitable for?
The Giant Operation Hire is one of those games that finds itself at all kinds of event - but it's very popular with the medical community, of course, being hired out for medical conferences and exhibitions all over the country.
Fun Days
University Events
Sports Events
Team Building
Promotional Events
Birthday Parties
Bar & Bat Mitzvahs
Exhibitions
Corporate Events
Charity Events
Key Features of the Giant Operation Hire:
Chock full of humorous body parts
Can be collected from our Preston depot
Easy to play, but really tricky to master
Bring the Giant Operation Hire to your events and the Fun Experts will ensure that your event doesn't end up in surgery!
Equipment Included with Giant Operation Hire:
1 x Giant Operation Table
1 x Authentic Medical Screen
1 x Operating Tweezers
Various Humorous Body Parts
Lab Coat & Wig
Power Lead 
Also Known As: Saw Bones
---
Equipment Size: 1.0m wide x 1.7m deep x 1.0m high
Operational Area Required: 2.0m wide x 2.7m deep
Power: standard socket (generator hire available)
Staff: adult supervision required (staff hire available)
Number Of Users: 1
Recommended Age/Height of Users: 7 years and over
Access Requirements: please note that a width of 0.82m is required when moving the equipment through doorways and corridors. If you feel that access may be an issue, such as stairways or lift access, uneven surfaces, obstructions or perhaps long distances then please mention this in your enquiry.
Speak to a Fun Expert today to discuss the bespoke upgrade options available from additional equipment, branding, prizes, props and theming. As we own all our own equipment we have the flexibility to adapt equipment to suit your requirements.
We had the large Operation game. The staff enjoyed this and everyone participated. Would defo get it again!
Emma
All our colleagues loved the Giant Games, it really made a difference to our BBQ!
Fran Hampton
2nd time that we have used The Fun Experts to supply Giant Games for our Staff Summer BBQ. Excellent service, good products at reasonable prices.
J Wells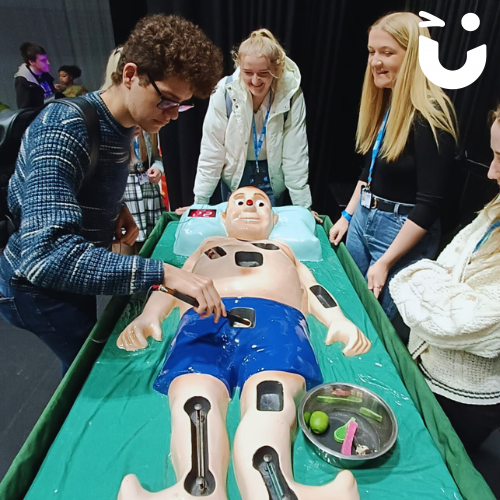 Giant Operation Hire has been added to your Event Quote.
Close
Call the Fun Experts to discuss your event: