Scalextric Race Package Hire
Scalextric Race Package Hire
If you've ever been to Brands Hatch then you'll know how exciting a day of motorsport can be and we can bring a slice of that excitement to you with our Scalextric Race Package Hire. Building on the fun of the Scalextric Hire, package adds in some exciting paraphernalia to really drive home the high-octane fun.
If you're not familiar with the Scalextric Hire we'll start there: the amazing slot-racing track has 3 lanes to give more options of track layout - we have 2 different track layouts available - all based on a modular system that allows the large track to be disassembled to fit through the doors of most venues. And, we have some exciting news because...
There's been a revamp!
Our new, state of the art track has been hand made in Germany and combines cutting edge digital technology with the highest quality traditional wooden racing surface.
The Slotronic digital race software allows up to 8 cars to race simultaneously across the 3 lane track - yes you read that right! Drivers will line up on the racing grid, grand prix style and await the green light. The intelligent track lets each driver vie for the racing line, while it identifies the fastest cars during the lap and then switches the quickest cars into the inside lane allowing for spectacular overtaking manoeuvres and realistic thrills and spills! Of course staying on the track is down to you so don't forget to break on those corners! The winner is identified as the first to complete a ten lap race and the software also records lap times, allowing further accolades for contestants. 
The Scalextric Race Package Hire also includes the Winners Podium and a black and white Checkered Backdrop, to use during the awards ceremony part of the event when the overall winner of the day can be rewarded - alternatively, it can be used as a backdrop for a photo opportunity.  Add in the real Tyre Props and you've got yourself a place to grab a wicked photo.
The lap counter will register how many laps are done in a set time, or how long it takes to do a certain number of laps, so you can ensure that you have a steady flow of people using the Scalextric Hire throughout your event.
What events are the Scalextric Race Package Hire suitable for?
Themed events are always much better received so if your event has a Racing Theme, make sure you hire the Scalextric Race Package:
Fundraising Events
Corporate Events
Team Building
Office Parties
Staff Engagement
Weddings
Awards Ceremonies
Birthday Parties
Bar & Bat Mitzvahs
Key Features of the Scalextric Hire:
Two sizes of Scalextric Hire available:
3.40m wide x 1.70m deep
4.25m wide x 1.70m deep
Winners Podium, Checkered Backdrop, Ropes & Stanchions included
Lap counter to register the winners
Great for themed events
So rev up your engine and put yourself in pole position with the Scalextric Race Package Hire and you'll be sure to finish in first place!
Equipment included with Scalextric Race Package Hire:
1 x Scalextric Race Track Table
Selection of Scalextric Cars
4 x Control Triggers (Upgrade to 8 available)
1 x Lap Counter Display
1 x Checkered Backdrop
Winners Podium
Power Leads
2 x Fun Experts
There are two different size Scalextric tracks available to hire, meaning we can fit in to almost any space, no matter how little or small;
3.40m wide x 1.70m deep
4.25m wide x 1.70m deep
---
Equipment Size: Max size 4.25m wide x 1.70m deep
Operational Area Required: can be tailored to your specific requirements
Power: standard socket (generator hire available)
Staff: adult supervision required (staff hire available)
Number Of Users: 4 x Control Triggers (Upgrade to 8 available)
Recommended Age/Height of Users: 5 years and over
Access Requirements: please note that a width of 0.82m is required when moving the equipment through doorways and corridors. If you feel that access may be an issue, such as stairways or lift access, uneven surfaces, obstructions or perhaps long distances then please mention this in your enquiry.
With the Scalextric Racing Package, you'd be forgiven for thinking you already have it all, however check out these fantastic upgrade options:
Bespoke Branding - the track is open to branding so if you want to shout about something in particular at your event, then this is an ideal option
Size - the standard size of track is 3.40m x 1.70m, however you can upgrade to the larger track measuring at 4.25m x 1.70m for larger venues
Cars - featuring the standard Push and Go Scalextric Cars, you may want to inject some nostalgia with the American Muscle Cars or British Rally classics.
Our Fun Experts are sure to fill you with inspiration, so be sure to chat about the upgrade options avalable.
I have had 5 events through The Fun Experts. They all went really well and the staff were very helpful. I would definitely HIGHLY RECOMMEND!.
Sam Spencer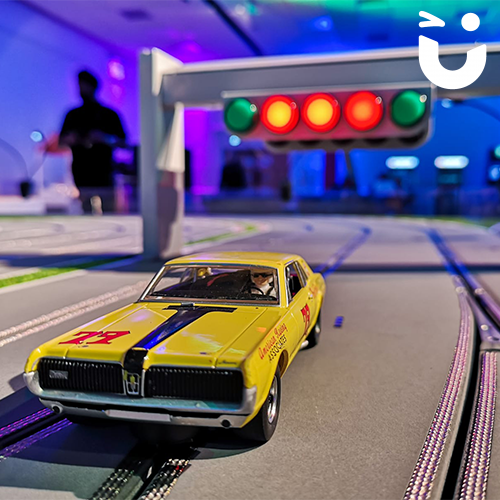 Scalextric Race Package Hire has been added to your Event Quote.
Close
Call the Fun Experts to discuss your event: