Roll A Ball Reindeer Racing Hire
Roll A Ball Reindeer Racing Hire
With just one night to help Santa deliver his presents to boys, girls, and families all around the world, Santa and his reindeer need to be kept in great shape! Helping them do just that is an addictive pastime that is sure to entertain each and every one of your Christmas party guests with our Kentucky Derby reindeer racing game!
At the sound of the bell, the rolling frenzy begins as up to four players take their position and begin to roll their ball into the holes in order to bring their Racing Reindeer to the finishing line. Dropping the ball down the red holes will move the reindeer further than dropping down the yellow, so skill and precision is needed to ensure a speedy race.
With Santa's Lil Helper overseeing this Donky Derby, guests will have a fantastic time as they compete to win the race with their reindeer.  The question is, will it be Rudolph, Comet, Vixen or Dasher who flies across the night sky to become the first to land on the snowy rooftop?
What events are the Roll A Ball Reindeer Racing Hire suitable for?
Christmas Parties
Santa's Grottos
Product Launches
Office Activity Days
Exhibitions
Conferences
Weddings
Charity Events
Corporate Events
Though the Roll A Ball Reindeer Racing is available for Christmas events, don't worry if you want to hire the Roll A Ball for another themed event as we also have the Roll A Ball Donkey Derby available to hire.
Key features of the Roll A Ball Reindeer Racing Hire:
Caters for up to 4 players
Staffed by Santa's Lil Helper (a fun expert)
The perfect centrepiece to a funfair Christmas party
The Roll A Ball Reindeer Racing is a very popular hire over the Christmas period, so we would always advise that you get in touch nice and early to avoid disappointment.  Give the fun experts a call now!
Equipment included with the Roll A Ball Reindeer Racing Hire:
1 x Fun Expert - they may even don a Christmas hat!
Four 'lanes' for guests to play
Sound and music Power leads
---
Equipment Size: 2.0m wide x 2.5m deep x 2.4m high
Operational Area Required: 3.0m wide x 3.5m deep x 2.4m high (minimum)
Power: standard socket required (generator hire available 6.5kva)
Staff: trained operator provided
Number Of Users: 4
Access Requirements: please note that a width of 1.2m is required when moving the equipment through doorways and corridors. If you feel that access may be an issue, such as stairways or lift access, uneven surfaces, obstructions or perhaps long distances then please mention this in your enquiry.
We can tailor the Roll A Ball Donkey Derby to your event with some fantastic Upgrade options as detailed below:
Bespoke Branding:
perfect for Exhibitions / Promotional Events, we can offer bespoke branding of the Roll A Ball with a perfect canvas on both the back racing board and the front skirt. Christmas Theming & Props - with the reindeers delivering Christmas cheer along the race track, add more of a festive feel with our selection of theming and props that include Christmas Trees, Snow, Reindeer, Snowmen, Sleighs and more.
Speak to a Fun Expert today to discuss how you can benefit from these bespoke features for your event and discuss sizing and design.
Roll a Ball Reindeer Racing was an absolute hit. We will definitely come back to The Fun Experts.
Claire Hunnable
WOW! We wanted something different for our party and the Reindeer Racing certainly didn't disappoint! We absolutely loved it... although it did get very competitive!
Catherine Miller
The Roll A Ball Reindeer was a great success on the evening and really added to the overall event. Very addictive, great fun!
Emma Wallace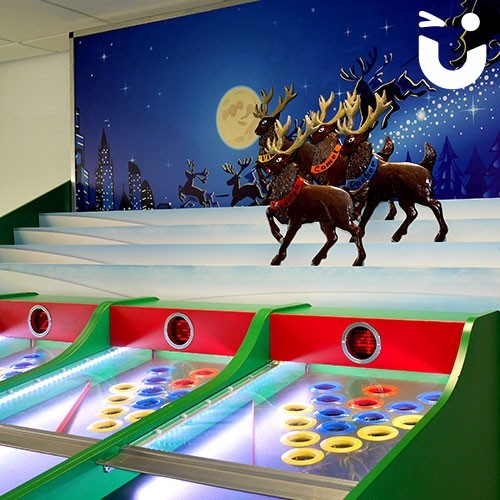 Roll A Ball Reindeer Racing Hire has been added to your Event Quote.
Close
Call the Fun Experts to discuss your event: