Wrecking Ball Inflatable Hire
Wrecking Ball Inflatable Hire
What really makes an inflatable stand out at an event isn't just the size (though this is BIG!), the colours (this is an eye catcher!) but the fun to be had and, more importantly, how many can get involved at once.
Well, allow us to introduce you to one of the more competitive inflatable challenges... the Wrecking Ball Inflatable! The challenge is simple: to be the last one standing as guests take to their podiums and use the giant inflatable wrecking ball to knock down a human or two (sorry, no buildings can be harmed!). Up to four people can take part in the challenge at any one time and it's open to adults and children to get involved.
Not only fun for those taking part, but guests who want to enjoy from the sidelines will be in for a laugh as they watch on to see the fun unfold.
What events are the Wrecking Ball Inflatable suitable for?
Given its size, this inflatable is sure to grab the attention of guests. Whether walking on to the field of a fun day or stepping of a bus for an away day team build event, everyone is sure to want to race to this attraction and be one of the first to demolish their opponents. So if you're organising a...
Family Fun Day
Team Building Event
University Event
Charity Event
Private Party
...then the Wrecking Ball Inflatable is definitely an option to consider.
Key Features of the Wrecking Ball Inflatable:
Upto 4 people can take part at once
Suitable for adults and children
Large, vibrant inflatable - an instant crowd puller
Available for indoor / outdoor events - just check the height limit
Fantastic for team building - a semi final challenge?
Fun for all, whether taking part or cheering on from the sidelines
Available for a variety of events, both guests and yourself will have a ball. Though please note, we can't be held responsible for any guests wanting to re-enact Miley Cyrus' video!
What's included with the Wrecking Ball Inflatable Hire:
2 x Fun Experts - not there to simply supervise, we'll help entice people to take part and even take part ourselves (we're very competitive!)
1 x Inflatable Wrecking Ball
4 x Podiums
1 x Wrecking Ball
Safety Mats
Power Leads
Fan to Inflate (Power Required)
---
Equipment Size: 8.2m diameter x 6m high
Operational Area Required: 9.2m diameter x 6.5m high
Power: standard socket required (generator hire available 6.5kva)
Staff: fully trained Fun Expert included
Recommended Age/Height of Users: 5 years and over
Access Requirements: please note that a width of 1.3m is required when moving the equipment through doorways and corridors. If you feel that access may be an issue, such as stairways or lift access, uneven surfaces, obstructions or perhaps long distances then please mention this in your enquiry.
Speak to a Fun Expert today to discuss the bespoke upgrade options available from additional equipment, branding, prizes, props and theming. As we own all our own equipment we have the flexibility to adapt equipment to suit your requirements.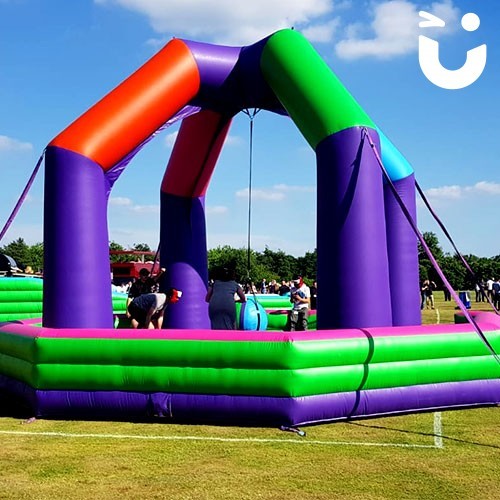 Wrecking Ball Inflatable Hire has been added to your Event Quote.
Close