Virtual Reality Experience Hire
Virtual Reality Experience Hire
The recent boom in technological advances have turned the 90s dream of Virtual Reality (VR) into an actual reality!  And The Fun Experts are always pushing the envelope, bringing you the best in technology and games through VR hire.
The Virtual Reality Experience allows guests to experience an exhilarating, near-reality that is truly breathtaking.  Users place the Virtual Reality Headset over their eyes and enter a new world, whilst spectators are able to see what the user sees on our purpose built TV unit which houses a 43" ultra high definition display, but they won't know how truly amazing the Virtual Reality Experience Hire is until they place the headset on themselves.
Here are just a few of the fantastic experiences and games available to you and your guests.  Warning: some of these virtual reality experiences may make your reality seem a little dull when the headset comes off!
Luge -

Weave through traffic, scrape under big-rigs and feel the exhilaration of illegal street-racing just inches from the asphalt.

4 Levels, 1-2 mins each race, led on your back whilst travelling downhill, fastest/shortest time wins.

London Heist –Tool up for a heist, survive a thrilling getaway and then withstand a brutal interrogation that ends with an impossible choice.

Shoot targets, highest score wins

Danger Ball 

– Enter the sporting event of the future where victory is everything. Master your skills and destroy your rivals: only winners survive. 

Head the ball back towards a scoreboard - 3 lives, highest score wins.

Ocean Descent –

Dive into adventure as a deep-sea explorer. Plunge into the depths and marvel at the marine life all around you. The u

nderwater cage lowers you down into the ocean so you can see all sea life and even Shark at the bottom.

Box VR –

Rhythm-Based Boxing Inspired Workouts.

Box the colour balls the way it says, good work out.

Angry Birds -

Fire birds at pigs with the aim of knocking them all over.

Fruit Ninja -

Step into the Fruit Ninja universe and tackle fruit from all angles - just don't hit the bombs! Take your ninja skills to the next level by slicing, juggling and skewering fruit in virtual reality.1 min a game, highest score wins

Beat Saber - 

Beat Saber is a VR rhythm game where your goal is to slash the beats which perfectly fit into precisely handcrafted music. 2-3 mins a game, highest score wins.

Space Pirate -

Space Pirate Trainer is the official trainer for wannabe space pirates in VR. Pick up your blasters, put on your sneakers, and dance your way into the Space Pirate Trainer hall of fame. Space Shooting, shoot drones, 3 lives, highest score wins

Walk The Plank -

You're on a plank, 80 stories high. Knees shaky, palms sweaty. You have a choice. Do you walk or do you freeze?

Gran Turismo -

Welcome to the future of motorsports – the definitive motor racing experience. Get instant access to only the fastest, most desirable driving machines on the planet and experience the thrill of speed without limitation.
What events are the Virtual Reality Experience Hire suitable for?
The Virtual Reality Experience Hire is a great addition to all kinds of events - suitable for ages 6 and over - the boys will be hankering for another go, whilst the girls are always ready to step up to the challenge!
Exhibitions
Promotional Events
Christmas Parties
Corporate Events
Shopping Centre Promotions
University Events
Fundraising Events
Weddings
Birthday Parties
Bar Mitzvahs / Bat Mitzvahs
Key Features of the Virtual Reality Experience Hire:
Virtual Reality Headset
UHD 43" display
Powerful PC computer stack
Loads of amazing games
Tensa Barriered area
Trained Fun Expert
Make this activity a reality at your event by giving the Fun Experts a call and the Virtual Reality Experience Hire will be the perfect centrepiece to your event!
Equipment included with Virtual Reality Experience Hire:
VR Headset, Controllers, Sensors - everything needed to enter the virtual world
High Spec PC
Purpose-built TV unit with UHD 43" display
Tensa barriered area - creating a fantastic area for your experience 
A selection of games and experiences for your event
A fully trained Fun Expert
Equipment Size: A minimum area of 2.0m wide x 2.5m deep is required
Operational Area Required: A minimum area of 2.0m wide x 2.5m deep is required
Power: standard socket required (generator hire available)
Staff: trained Fun Expert provided
Number Of Users: 1
Recommended Age/Height of Users: Suitable for guests aged 12 and over
Access Requirements: Suitable for Indoor use only. Please note that a width of 0.82m is required when moving the equipment through doorways and corridors. If you feel that access may be an issue, such as stairways or lift access, uneven surfaces, obstructions or perhaps long distances then please mention this in your enquiry.
The Virtual Reality Experience can be quite a personal one, with much of what is happening, on display for the indivdual in the headset. However, there are a number of upgrade options which will help enhance the experience of this hire for your event:
Bespoke Branding - from the Unit which houses the display screen, to the side banners that create the VR area, there is plenty of scope to bring attention to your brand at your event. From vinyl stickering to bespoke banners, there are a number of options available.
Games - already supplied with some of the best, most interactive experiences, we can upgrade the hire to feature a game better suited to your event.
When discussing your hire of the Virtual Reality Experience, be sure to enquire with the Fun Experts about these upgrade options and how we can bring another level of excitement to your event.
The Virtual Reality Experience was much better than we could have ever expected, unbelievable!
Larissa
From the very first phone call I knew I had made the right choice, very professional and most helpful. Thank you so much!
Mel Dreszler
The virtual reality was a big hit with everyone, I will be singing your praises to all!
Susan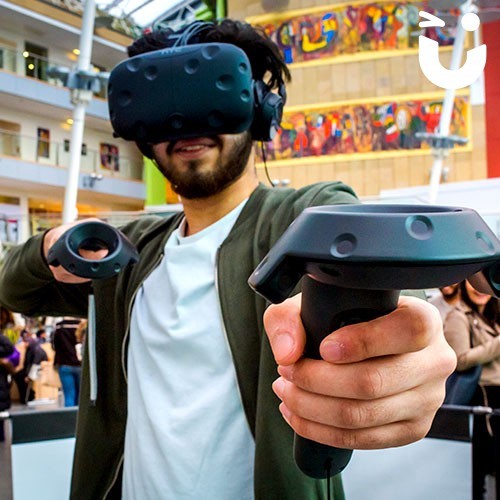 Virtual Reality Experience Hire has been added to your Event Quote.
Close
Call the Fun Experts to discuss your event: