Hungry Hippos Inflatable Hire
Hungry Hippos Inflatable Hire
We all remember the song… "It's a race, it's a chase, hurry up and feed their face! Who will win? No one knows! Feed the hungry hip-ip-pos! Hungry hungry hippos!" OK, maybe it's just us.  There's quite a few children of the 80's that will remember it though.  But don't worry, you don't need to be an oldie to enjoy this amazing fun and energetic inflatable!
The challenge is simple, as up to four people become 'human hungry hippos' and compete to collect as many balls as they can, to feed their hunger. Taking position on one of the four runs, a Fun Expert will help you attach a belt that will make the challenge that little bit more difficult. When the game begins, all four 'hippos' will try and run to the centre of the inflatable to collect their colour balls, then being pulled back by the bungee ropes attached to their belt.  But make sure you put your balls in your pouch because, come the end of the game, if the ball isn't in the pouch then it isn't counted!
This superb inflatable is suitable for ages 5 and over, so it's not just the big kids who get to take part and the competitive nature of game makes it a great activity at all kinds of events - not least at Team Building events where it's often used as a Semi-Final or Final game to determine the overall winner of the event.
What events is the Hungry Hippos Inflatable Hire suitable for?
Get yourself strapped in and you're ready to start collecting your balls - whether you're at a wedding, fun day or corporate event, the Hungry Hippos Inflatable is a very welcome addition!
Fun Days
Team Building Events
Shopping Centre Promotions
Promotional Events
Charity Events
University Events
Sports Events
Birthday Parties
Key Features of the Hungry Hippos Inflatable Hire:
Staffed by 2 Fun Experts
Suitable for young children all the way to adults
Good for indoor and outdoor events
Large, vibrant inflatable that is sure to catch the eye of guests
Fun for all, whether taking part or watching on from the side
The Hungry Hippos Inflatable is a great example of the Fun Experts taking a classic, much loved game and adding a fun, inflatable spin bringing a whole new element to event experiences. See the fun it has provided at countless events in our Inflatables Gallery.
2 x Fun Experts - not there to simply supervise, we'll help entice people to take part and even take part ourselves (we're very competitive!)
1 x Inflatable Hungry Hippos
4 x Bungee Belts
Balls
Safety Mats
Power Leads
Fan to Inflate (Power Required)
---
Equipment Size: 8.0m diameter x 2.0m high
Operational Area Required: 9.0m diameter x 2.5m high
Power: standard socket required (generator hire available 6.5kva)
Staff: fully trained Fun Expert included
Number Of Users: 4
Recommended Age/Height of Users: 5 years and over
Access Requirements: please note that a width of 1.3m is required when moving the equipment through doorways and corridors. If you feel that access may be an issue, such as stairways or lift access, uneven surfaces, obstructions or perhaps long distances then please mention this in your enquiry.
Speak to a Fun Expert today to discuss the bespoke upgrade options available from additional equipment, branding, prizes, props and theming. As we own all our own equipment we have the flexibility to adapt equipment to suit your requirements.
We hired The Fun Experts' Hungry Hippos. The staff were fab and the kids had a brilliant time. Thank you!
Sue
I used to love the smaller version but this is super sized fun! We all enjoyed being giant Hungry Hippos!
Alison Leach
From start to finish the The Fun Experts were great! Everyone loved the knockout challenge, It was fantastic! Massive thanks!
Pat Munro (Alness) Ltd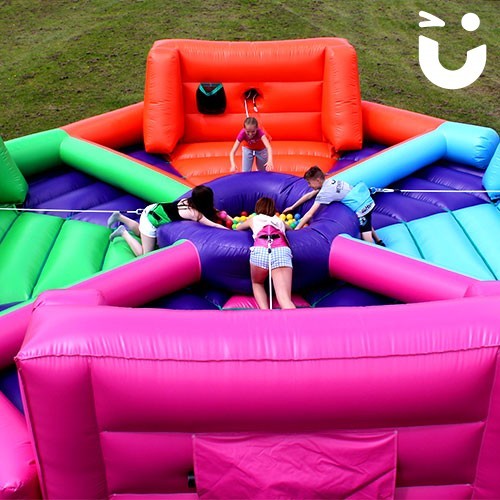 Hungry Hippos Inflatable Hire has been added to your Event Quote.
Close
Call the Fun Experts to discuss your event: