Wipeout Inflatable Challenge Hire
Wipeout Inflatable Challenge Hire
Inspired by the popular TV show, the Wipeout Challenge is a fantastic inflatable activity that will have even Richard Hammond whooping in glee as players are knocked from their podiums. If you're brave enough to face the sweeper arms, then you're in for a real workout as you find yourself jumping and ducking around to avoid losing your balance on the podium.
Controlled by our trained fun expert, the Wipeout Challenge features 4 podiums for contestants to use, so whether you have 4 teams select their top players to battle it out; have 4 members of the same team work together to be the last man standing; or you simply want to have a bit of fun on the inflatable and just have a laugh: there's something for every kind of event!
Adorned in our bright funky colours, the Wipeout Challenge is an eye-catching piece of fun equipment that is sure to draw a crowd at your event and adults and children can play against each other on this game, as it's suitable for all ages and abilities - imagine dad trying to outdo the kids, but finds it's harder than it looks!
What events are the Wipeout Challenge Hire suitable for?
The addictive nature of the Wipeout Challenge make it a fun inflatable for everyone to enjoy - players and spectators alike.
Fun Days
Promotional Events
Charity Events
Weddings
Shopping Centre Promotions
University Events
Sports Events
Birthday Parties
Bar Mitzvahs / Bat Mitzvahs
Key Features of the Wipeout Challenge Hire:
Suitable for almost all ages and abilities - adults and children can play at the same time
4 players at once
Variable speed and direction sweeper arms
So time your moves perfectly and you will find the Wipeout Challenge is one of the best fun inflatables to use at your event.
Equipment included with Wipeout Challenge:
1 x Wipeout Attachment
4 x Wipeout Stands
1 x Inflatable Base
4 x Helmets
1 x Control Station
Power Leads
1 x Fan to Inflate
1 x Fun Expert
---
Equipment Size: 7.4m wide x 5.8m deep x 1.4m high
Operational Area Required: 9.4m wide x 7.8m deep x 2.8m high
Power: standard socket required (generator hire available 6.5kva)
Staff: trained operator provided
Number Of Users: 4
Recommended Age/Height of Users: recommended 7 years and over
Access Requirements: please note that a width of 0.85m is required when moving the equipment through doorways and corridors. If you feel that access may be an issue, such as stairways or lift access, uneven surfaces, obstructions or perhaps long distances then please mention this in your enquiry.
Speak to a Fun Expert today to discuss the bespoke upgrade options available from additional equipment, branding, prizes, props and theming. As we own all our own equipment we have the flexibility to adapt equipment to suit your requirements.
Total Wipeout was a complete success, enjoyed by many of the 1000 young people who were at the event. The equipment was excellent fun!
Jane Owen
We had Wipeout at our most recent event and it was the favourite activity over the whole weekend!
Helen
From the very first phone call I knew I had made the right choice, very professional and most helpful. Thank you so much!
Mel Dreszler
Our Fun Day was fabulous, enjoyed by many and we are so grateful to The Fun Experts for your input in making it such a special day!
Debbie Robinson
The highest compliment that I can pay to The Fun Experts and their excellent staff is that I have used them for my Fun Day for the past four years!
Barry
The Fun Experts organised our company Team Building event. I will definitely be recommending them to other projects in our company.
Victoria Callow
I have had 5 events through The Fun Experts. They all went really well and the staff were very helpful. I would definitely HIGHLY RECOMMEND!.
Sam Spencer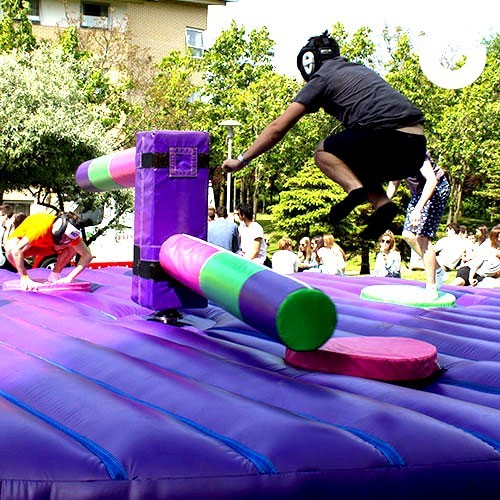 Wipeout Inflatable Challenge Hire has been added to your Event Quote.
Close
Call the Fun Experts to discuss your event: