Series of Freshers Events at Edge Hill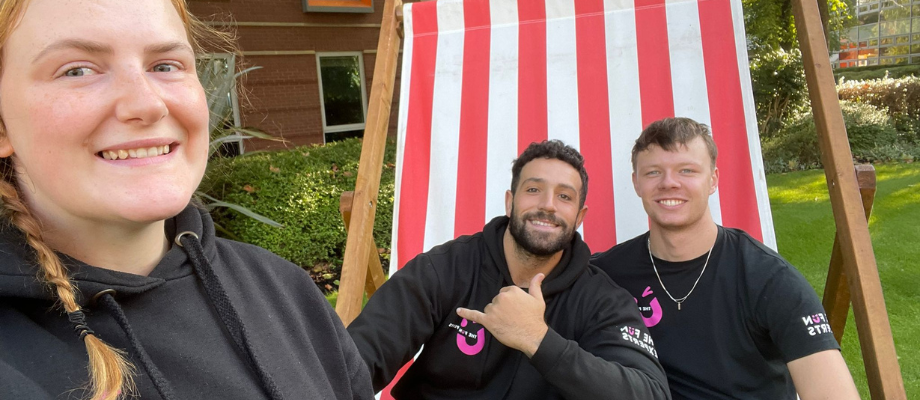 ---
What Edge Hill wanted...
When Freshers Week rolls around, most universities have one aim in mind when it comes to planning events and that's to welcome new students, make them feel comfortable on campus and encourage them to create new friendships. This year Edge Hill went all out, holding three different events for their students: The first, a welcome weekend, which entailed two full days of fun that students and their families would be able to drop in and out of as they moved into their new places and the second, a freshers fair event, jam packed full of entertainment to encourage new students to come together in a relaxed and fun environment. The third event would take place later in the week and host the InterHalls competition, an ice breaker between the different dorms and a chance for students to get to know the flatmates they'll be spending the next year with. Edge Hill University have worked with us on events before and therefore knew we were the right company for the job...

How The Fun Experts helped...
Dom from our sales team was the Fun Expert to take on the challenge of putting together these three events and wasted no time helping Edge Hill to select the right equipment for each event. Alison who was organising the events on behalf of Edge Hill had some specific ideas in mind and wanted a different set up of equipment at each one in order to keep everyone engaged.
For the Welcome Weekend, which would be held outdoors across two days, Dom suggested a range of different Fairground Stalls, a selection of Giant Games and plenty of Deckchairs for students and families to move between as and when they please, whereas Alison wanted the Freshers Fair event to be more action packed with plenty going on to keep students entertained, so opted for Popcorn and Candy Floss Carts, a range of Arcade Games from Pixel Play to a Nintendo Switch and a few Inflatables including a Rodeo Bull and Assault Course. Due to the competition element of the third and final event, it needed to be more structured with equipment that could get through as many students as possible and keep its novelty all day. Their top choices were the Cash Grabber and Human Table Football until the forecast took a turn for the worst and the table football was swapped out for our Batak Lite.

The Final Result
With several events to deliver, many of our Fun Experts were able to attend these events including Lauren from sales, who actually graduated from Edge Hill a few years ago and were all pleased to see everything go off without a hitch. All of the students and their families who attended the events looked like they had a great time, so much so that event organiser Alison has already mentioned their plans for next year's events!

Freshers week 2023 might be over now but there's still plenty of opportunities to throw a student event this year from engagement activities to end of year balls. If you're in need of some entertainment inspiration, you'll definitely want to take a look at our Range of University Entertainment or request one of our free Entertainment Guides. See you on campus!