Popcorn Cart Hire
Whether it's at a night at the cinema or a day out at the beach, there's one unique smell that really gets the taste buds tingling and mouths watering: freshly made popcorn!  There's nothing quite like it, and when you choose our Traditional Popcorn Cart Hire package you can bring that scrumptious odour to your event!
Placed on the beautifully designed wooden cart and using the top of the range popcorn machine, you could cook up a batch of sweet or salty popcorn in just a few minutes.  The technique is simple: add some unpopped corn to the kettle with a little coconut oil and apply heat.  Moments later you'll be able to hear the corn exploding inside the kettle and once it's scooped up into the cone you'll be enjoying the flavoursome popcorn.
The great thing about the Popcorn Cart Hire is that it's incredibly easy to make and serve the popcorn yourself, so we can provide the cart unstaffed for you to get involved at your event and be part of the experience.  Alternatively, we can pop on the apron ourselves and leave you to enjoy the festivities.
What events are the Popcorn on a Traditional Cart Hire suitable for?
With it's brightly coloured wooden cart and popcorn maker, the Popcorn on a Traditional Cart Hire is perfect for a great range of events such as:
Corporate Events
Christmas Parties
Fundraising Events
Shopping Centre Promotions
University Events
Exhibitions
Promotional Events
Cinema / Movie Screenings
Funfair Events
Weddings
Freshly made popcorn tastes so much better than the versions you might buy pre-popped in bags, or even at the cinema, so make sure you bring this unique cart to your event and start to enjoy the taste sensation! We can even provide branding options, both for the cart and even for cardboard popcorn boxes with your logo.
Key Features of the Popcorn on a Traditional Cart Hire:
Suitable for vegetarians and vegans
Easy to make - you can do it yourself!
Can serve up to 70 portions per hour
All ingredients and bags are included
Sweet or salted flavours available (not at the same time)
Traditional straw boater and striped apron provided for serving in
Also available on a compact trolley, or just the machine
Take a look at some of the great events that have enjoyed our Popcorn on a Traditional Cart Hire and you'll soon be able to enjoy the great tasting popcorn at your next event
Equipment included with Popcorn Cart Hire:
1 x Traditional Cart
1 x Popcorn Machine
Popcorn Cones
Raw Popping Corn
Sugar
Coconut Oil
Scoop Straw boater and striped apron
Power Leads
---
Equipment Size: 1.3m wide x 1.0m deep x 2.2m high
Operational Area Required: 2.3m wide x 2.0m deep x 2.2m high
Power: standard socket required (generator hire available 6.5kva)
Staff: adult supervision required (staff hire available)
Access Requirements: please note that a width of 0.82m is required when moving the equipment through doorways and corridors. If you feel that access may be an issue, such as stairways or lift access, uneven surfaces, obstructions or perhaps long distances then please mention this in your enquiry.
Whether it's sweet or salted, you're sure to please the taste buds of your guests when hiring this crowd pleaser. But here you can upgrade your Popcorn hire with the following:
Usherette Trays - as the sweet taste of Popcorn and Candy Floss is whipped up, volunteers can take the food to the guests in these brilliant cinema style Usherette Trays.
Additional Fun Foods - don't forget about Candy Floss and Ice Cream, we have a selection of Fun Foods that will add even more sweetness to your event.
When you're speaking to the Fun Experts today, ask how we can upgrade your package to include even more crowd pleasing options to your event.
The staff were extremely friendly and more importantly: very fun!! Thank you... you guys made our event!
Olivia Hall
The Popcorn and Candy Floss cart went down a treat. Very professional service. I would definitely recommend The Fun Experts to friends and colleagues.
Shola
The guys who set up the Popcorn Cart and Deckchairs for our cinema event were lovely, polite and professional
Sarah Newrick
Great service, professional staff, and students and staff loved the snow globe and popcorn both a great attraction to our Fresher's Fair .
Sarah Townson
The highest compliment that I can pay to The Fun Experts and their excellent staff is that I have used them for my Fun Day for the past four years!
Barry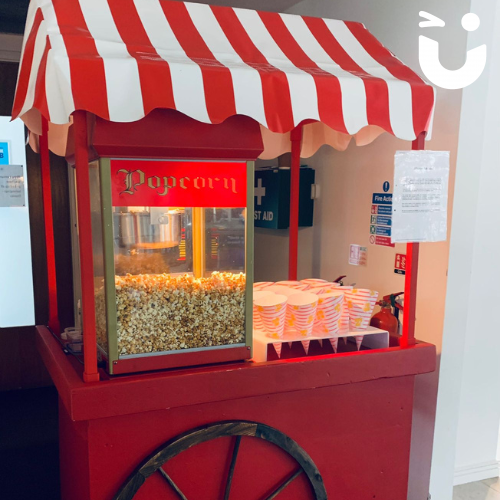 Popcorn Cart Hire has been added to your Event Quote.
Close
Call the Fun Experts to discuss your event: