Wooden Christmas Grotto Hire
Wooden Christmas Grotto Hire
As Christmas nears, we have now sold out of our long term Wooden Christmas Grotto hires. But we still have the ideal festive Christmas theming and home for Santa at your upcoming event with the Inflatable Christmas Grotto, Wooden Facades and Meet & Greet Areas.
The Santa's Christmas Wooden Grotto is the perfect solution for your long-term Christmas Grotto needs.  We've had these grottos made bespoke for us at The Fun Experts and their festive design, magical theming and props will turn your event into a real Christmas delight.
Built onsite the day before your event and packed down after, the Wooden Grottos are a solid structure that can house Santa during his many visits from excited children.  The amazing theming areas outside the Grotto will give the kids that feeling of anticipation before they meet the big man himself!
The solid wood Grottos feature two lockable doors, front and back, so you could either create route through the grotto, or use the backdoor as a secret entrance for Santa (to keep the illusion alive that he's always inside).
If you're looking for a way to inject that Christmas magic into your event but not in need of such a long term solution, we also have options that include our Inflatable Santa's Grotto, the Wooden Grotto Facade as well as Meet & Greet Areas, all of which are perfect for stand alone, single day events (or just another solution for the long term) and just as effective!
What events is the Santa's Christmas Wooden Grotto Hire suitable for?
Keep the magic going for up to 6 weeks with this long-term Grotto hire and use this fantastic setting to add to a range of events and venues including:
Shopping Centre Promotions
Fundraising Events
Santa's Grottos
Council / Community Events
Key features of the Santa's Christmas Wooden Grotto Hire:
Ideal for long-term hire
Bespoke solid wood construction with 2 fully lockable doors
Amazing, authentic props
Suitable for outdoor or indoor events
Full fire safety measures included
Please note: the Grotto must be set in an area with 24 hour security (if outdoors) or in a lockable area (if indoors).
Give your event a real authentic look with the Santa's Christmas Wooden Grotto, but get in quick… availability is limited!
Equipment included with Wooden Grotto Hire:
Wooden Grotto
2 x Large Snow Areas
4 x Festive Trees
Snow Covered Roof
Wooden Fencing
Window Boxes
2 x Snowman Prop
2 x Reindeer Prop
Prop Sleigh
Prop Presents
Red Post Box
Festive Garland
Mirror & Clock
Log Burner Stove
Logs & Welcome Mat
Ornate Bell
Old Book & Glasses
Mantle Shelf
Christmas Pictures
Rug
Santa's Sack
1 x Table Lamp
Elaborate  Throne
Santa's Boots
Side Table
Equipment Size: 4m wide x 2.5m deep x 2.8m high
Operational Area Required: flexible can be tailored to your specific requirements.
Power: standard socket required (generator hire available)
Staff: adult supervision required (staff hire available)
Access Requirements: please note that a width of 0.82m is required when moving the equipment through doorways and corridors. If you feel that access may be an issue, such as stairways or lift access, uneven surfaces, obstructions or perhaps long distances then please mention this in your enquiry.
Speak to a Fun Expert today to discuss the bespoke upgrade options available from additional equipment, branding, prizes, props and theming. As we own all of the equipment found on our site, we have the flexibility to adapt equipment to suit your requirements. Some options to upgrade your hire of the Inflatable Wooden Grotto include:
Santa's Grotto Presents - for every child (and adult!) visiting Santa, there is always the hope that you've been good enough to come away with an early gift from Santa. Our elves at Fun Towers have been busy packaging up this years Christmas gifts so they're ready for you and your guests!
Santa & Elves - with the hire of the Inflatable Christmas Grotto, you may need costume for your Santa and Elves. A quality suit for whomever you may have your eye on filling it out!
Additional Theming & Props - though these pacakges have been carefully considered by the Fun Experts to offer the best impact, you may want to include more. With items such as comical Reindeers,  Snowman Prop, Sleighs, Presents, Postboxes and Christmas Trees...more really is merrier!
Speak to the festive Fun Experts today to discover how upgrading your package can be made even more merrier this Christmas.
Our events are very important to us so it's great to work with a company that shares our commitment to making our events a success.
Karin Bruce
The grotto looked AMAZING in our shopping centre all through December and the presents were perfect. See you again next year!
Lisette Smith, Marketing Manager
We've hired other grottos for our shopping centre but yours far EXCEEDED OUR EXPECTATIONS!
Stuart Robbins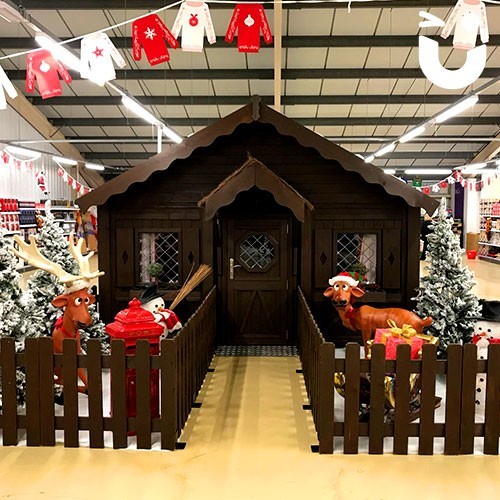 Wooden Christmas Grotto Hire has been added to your Event Quote.
Close
Call the Fun Experts to discuss your event: