Inflatable Christmas Grotto Hire
Inflatable Christmas Grotto Hire
If you want to create a scene for families to meet Santa and get that all important gift, we have the perfect solution for you with our Inflatable Santa's Grotto packages.
As you invite guests to your Christmas event, nothing adds that magical festive feel better than being able to step inside Santa's Grotto and share your wishlist with him this Christmas. With the Inflatable Christmas Grottos, guests can marvel at the magic brought to your event.  
With three levels of packages available, from the bronze package featuring the authentic log cabin look of the Inflatable Grotto, where guests can step inside and meet Santa as he sits on his elaborate throne, to our gold package, featuring a winter wonderland backdrop and a variety of Christmas props.
Guests can strike a pose and share the festive cheer.  Take a look at the 'What's Included' section for more detail on the packages.
Over the years, we have attended thousands of Christmas events and as a result we have created some fantastic, ready-made packages that allow the Inflatable Christmas Grotto to be a standout feature and is sure to provide a memorable celebration.
What events is the Inflatable Christmas Grotto suitable for?
Thanks to the ease of set up, the Santa's Grotto can make an appearance at many venues, whether indoor or outdoor.  So if you've been tasked with organising your Christmas event, we can visit you at your:
Christmas themed party
Corporate Events
Fundraising Events
Universities / Colleges / Schools
Shopping Centres
Key features of the Inflatable Christmas Grotto:
Authentic log cabin look
Ideal for one-day events
Quick set up - the inflatable will be up in a matter of minutes, meaning we can focus on the finer details of theming
Suitable for indoor or outdoor Christmas events
Wheelchair accessible
2 doorways - great for crowd / queue control, or one can be closed off
Gold

Silver

Bronze

2 door Inflatable Grotto

2 x Medium Snow Areas

4 x Festive Tree

3 x PAR Can Light

Wooden Picket Fencing

Snowman Prop

Reindeer Prop

Prop Sleigh

Prop Presents

2 x Winter Wonderland Backdrops & Stands

Stone Effect Path

Rug

Santa's Sack

1 x Table Lamp

Elaborate Santa's Throne

Side Table

2 door Inflatable Grotto

Medium Snow Area

2 x Festive Tree

3 x PAR Can Light

Wooden Picket Fencing

Snowman Prop OR Reindeer Prop

Prop Sleigh

Prop Presents

1 x Winter Wonderland Backdrop & Stand

Stone Effect Path

Rug

Santa's Sack

Elaborate Santa's Throne

2 door Inflatable Grotto

Small Snow Area

1 x Festive Tree

2 x PAR Can Light

Wooden Picket Fencing

Rug

Santa's Sack
Equipment Size: 2.5m wide x 4.0m deep x 2.8m high
Operational Area Required: flexible can be tailored to your specific requirements
Power: standard socket required (generator hire available 6.5kva)
Staff: adult supervision required (staff hire available)
Access Requirements: please note that a width of 0.82m is required when moving the equipment through doorways and corridors. If you feel that access may be an issue, such as stairways or lift access, uneven surfaces, obstructions or perhaps long distances then please mention this in your enquiry.
Speak to a Fun Expert today to discuss the bespoke upgrade options available from additional equipment, branding, prizes, props and theming. As we own all of the equipment found on our site, we have the flexibility to adapt equipment to suit your requirements. Some options to upgrade your hire of the Inflatable Christmas Grotto include:
Santa's Grotto Presents - for every child (and adult!) visiting Santa, there is always the hope that you've been good enough to come away with an early gift from Santa. Our elves at Fun Towers have been busy packaging up this years Christmas gifts so they're ready for you and your guests!
Santa & Elves - with the hire of the Inflatable Christmas Grotto, you may need a costume for your Santa and Elves. A quality suit for whomever you may have your eye on filling it out!
Additional Theming & Props - though these packages have been carefully considered by the Fun Experts to offer the best impact, you may want to include more. With items such as comical Reindeers,  Snowman Prop, Sleighs, Presents, Postboxes and Christmas Trees...more really is merrier!
Speak to the festive Fun Experts today to discover how upgrading your package can be made even more merrier this Christmas.
The grotto looked AMAZING in our shopping centre all through December and the presents were perfect. See you again next year!
Lisette Smith, Marketing Manager
The inflatable pop up Christmas Grotto and theming looked magical at our event last week. Father Christmas loved his new home!
Richard Ashcroft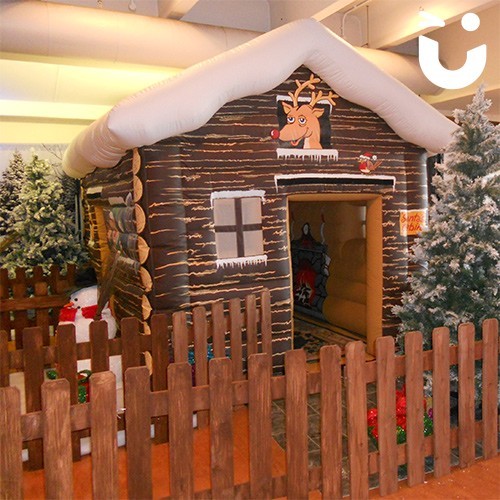 Inflatable Christmas Grotto Hire has been added to your Event Quote.
Close
Call the Fun Experts to discuss your event: