Christmas Prop Hire
You've got the Grotto. You've got the Photo Booth. You're all sorted for Side Stalls and Entertainers and all those Winter Wonderland decorations. But wait! There's something missing… you need to add a little more Christmas flavour to your event. What do you do?
The answer is simple: look into the fantastic range of Christmas props for hire from The Fun Experts. These high quality props are the perfect addition to your event and guaranteed to bring a smile to the faces of all your guests with our Christmas decorations!
We've got a great range of props to choose from - either to add to your existing Grotto set up, or to enhance the festive theme at your Christmas party.  Choose from:
Comical Reindeer (sitting or standing)
Snowman
Santa's Sleigh (not life-sized)
Santa's Elaborate Throne
Santa's Wooden Throne
Snowy Christmas Tree
Glitter Prop Presents
Winter Wonderland Backdrop
Santa's Grotto Backdrop
Wooden Picket Fencing
White Picket Fencing
Red Postbox
Red Carpets, Ropes & Stanchions
What events is the Christmas Prop Hire suitable for?
The Christmas Props are ideal for events where you need to add that extra special something to your event, including:
Christmas Parties
Family Corporate Events
Fundraising Events
Shopping Centre Promotions
Santa's Grottos
Key features of the Christmas Props:
One of the key features of the Fun Experts is their attention to detail and with this selection of theming and props, we can add another element of excitement to your Christmas event. 
It's sometimes the smaller, finer details that guests remember from an event; yours can truly be one to remember as we decorate your event with the true feeling of Christmas.
Don't just make do!  Add a few of our Christmas props to your event and turn it into something truly magical.  Give the Fun Experts a call to put together your package now.
You won't win a novelty prize or see the competitive side to guests with the Christmas Prop hire; instead, you'll see the faces of guests light up as they walk in to your Winter Wonderland, surrounded by a selection of Christmas theming and props that will delight and invite a magical Christmas feeling.
Equipment Size: Christmas Props vary in size
Access Requirements: please note that a width of 0.82m is required when moving the equipment through doorways and corridors. If you feel that access may be an issue, such as stairways or lift access, uneven surfaces, obstructions or perhaps long distances then please mention this in your enquiry.
For some the props and theming are just the start, the stepping stones to your Christmas Event. Having created your Christmas themed package with the Fun Experts, you may want to consider upgrading your package to include more festive fun.
Be sure to speak to the Fun Experts and discuss how they can bring your wish list together to create the perfect package for your Christmas party.
The Christmas theming and props were PERFECT to add the finishing touches to our Christmas event. Brilliant service!
Lucy Eland
Thank you for making our Christmas Party the best we've ever had!
Carol Smethurst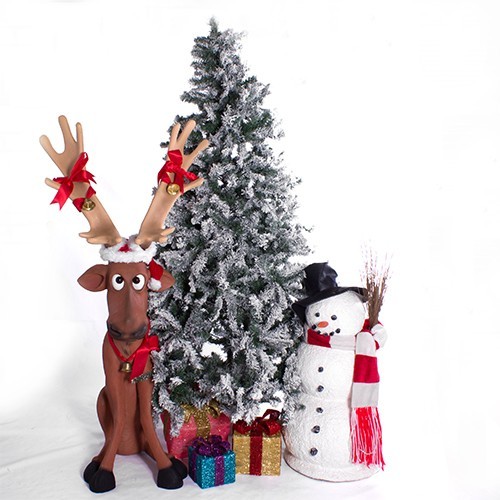 Christmas Prop Hire has been added to your Event Quote.
Close