Santa's Winter Wonderland Meet and Greet Hire
Santa's Winter Wonderland Meet and Greet Hire
Look no further than the Santa's Christmas Winter Wonderland meet and greet Hire. Bringing Santa to your event is sure to make everyone happy, excited and feeling festive for your event.
Using the amazingly detailed Winter Wonderland backdrops and a whole host of amazing Christmas decorations, we can tailor the package to your event space and ensure that no-one is left out when they get to meet Santa Claus. And the beautifully ornate Santa's wooden throne just makes it even more special and unique.
A number of packages have been created for your event and these are available in Gold, Silver and Bronze, details of which can be found in the What's Included tab.
And if you're looking for a more authentic log cabin look, then be sure to check out our Santa's Grotto Meet & Greet Area and the Wooden Grotto Facade. Other short term / single day event or long term options can include our Inflatable Santa's Grotto and the Wooden Christmas Grotto. With every possible option, each has comes with a festive attention to detail, ensuring the magic of Christmas is felt by all!
 What events is the Santa's Christmas Wonderland Meet and Greet Hire suitable for?
Christmas is a time for everyone. The Santa's Christmas Wonderland Meet and Greet Hire is a fantastic setting to add to a range of events including:
Christmas Parties
Corporate Events
Fundraising Events
Shopping Centre Promotions
Santa's Grottos
Key features of the Santa's Christmas Wonderland Meet and Greet Hire:
Unique cloth background with adjustable height stand
Amazing, authentic props
Able to fit most event spaces
Suitable for indoor events
Speedy build times
Available for both short and long term hire 
You and your guests will marvel at how the winter scene of the Christmas Wonderland Meet and Greet Areas can transform an event and add that special, memorable feel to your Christmas celebrations.
What's included with the Winter Wonderland Meet and Greet Hire
There are three different packages available to hire for your event. The Gold, Silver and Bronze packages for the Santa's Grotto areas are...
Gold Package
2 x Winter Wonderland Backdrops & Stands
Elaborate Santa Throne
4 x Snow Covered Festive Trees
Snow Covered Ground
Reindeer Prop OR Snowman Prop
2 x Bundle of Prop Presents
Stone Effect Path
12 x Picket Fencing
Lighting (power required)
Silver Package
Winter Wonderland Backdrop & Stand
Elaborate Santa Throne
2 x Snow Covered Festive Trees
Snow Covered Ground
1 x Bundle of Prop Presents
6 x Picket Fencing
Stone Effect Path
Lighting (power required)
Bronze Package
Winter Wonderland Backdrop (by collection only from one of our Depots)
Equipment Size: 3.0m wide x 2.0m deep x 2.5m high
Operational Area Required: can be tailored to your specific requirements
Power: standard socket (if lighting is required) (generator hire available)
Staff: adult supervision required (staff hire available)
Access Requirements: please note that a width of 0.82m is required when moving the equipment through doorways and corridors. If you feel that access may be an issue, such as stairways or lift access, uneven surfaces, obstructions or perhaps long distances then please mention this in your enquiry.
Speak to a Fun Expert today to discuss the bespoke upgrade options available from additional equipment, branding, prizes, props and theming. As we own all of the equipment found on our site, we have the flexibility to adapt equipment to suit your requirements.
Some options to upgrade your hire of the Inflatable Christmas Wonderland Meet & Greet Area include:
Santa's Grotto Presents - for every child (and adult!) visiting Santa, there is always the hope that you've been good enough to come away with an early gift from Santa. Our elves at Fun Towers have been busy packaging up this years Christmas gifts so they're ready for you and your guests!
Santa & Elves - with the hire of the Inflatable Christmas Grotto, you may need costume for your Santa and Elves. A quality suit for whomever you may have your eye on filling it out! Additional Theming & Props - though these packages have been carefully considered by the Fun Experts to offer the best impact, you may want to include more.
With items such as comical Reindeers,  Snowman Prop, Sleighs, Presents, Postboxes and Christmas Trees...more really is merrier! Speak to the festive Fun Experts today to discover how upgrading your package can be made even more merrier this Christmas.
We didn't have enough room for a full grotto so the Christmas Meet and Greet Area was PERFECT for our staff canteen!
James Murphy
We have used the meet and greet set ups in all our stores for three years now. Its a great cost effective set-up which takes the pressure off us. See you next year!
Dom Cradwell, Store Manager
The meet & greet we had for Santa was spectacular, we received a lot of positive comments from members of the public that attended.
Sue Coulson , Clerk to Birstall Parish Council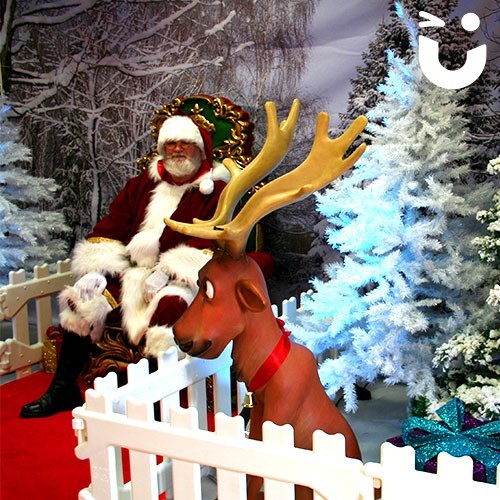 Santa's Winter Wonderland Meet and Greet Hire has been added to your Event Quote.
Close
Call the Fun Experts to discuss your event: