Santa's Christmas Wooden Grotto Facade Hire
Santa's Christmas Wooden Grotto Facade Hire
The Santa's Christmas Wooden Grotto Facades are ready-made with Christmas themes, perfect for events that need to retain that authentic wood cabin look. Santa can take a seat in his elaborate wooden throne and cosy up to the fireplace, surrounded by photos of his nearest and dearest such as Mrs Claus, Rudolph and his little helpers.
Using the two wooden facade boards, the Fun Experts replicate Santa's log cabin home, using a selection of Christmas decorations to add warmth and magic to the cosy setting. Featuring everything you would expect to see in the comfort of his own winter cabin, Santa will feel right at home inside his meet and greet winter wonderland.
The open-plan aspect of Santa's Grotto makes it a perfect addition to events where Santa is on hand to meet the children and talk to them about their Christmas wishes. Just make sure you get lots of great presents to give out.
What events is the Santa's Christmas Wooden Grotto Facades Hire suitable for?
If you're looking for a quick set-up solution with a realistic feel, the wooden grotto is just the ticket for your event.  It's ideal for:
Christmas Parties
Corporate Events
Fundraising Events
Shopping Centre Promotions
Santa's Grottos
Key features of the Santa's Christmas Wooden Grotto Hire:
Realistic looking wooden facades
Amazing, authentic props
Suitable for indoor events
Speedy set-up time
Available for short and long-term hire
Call the Fun Experts now to book in and bring a bit of Christmas magic to your event!
Equipment Included with Santa's Christmas Wooden Grotto Facades Hire:
2 x Wooden Grotto Facades
1 x Elaborate Santa's Throne
Santa Sack
Rug
Fireplace
1 x Picture Window
1 x Pair of Luxurious Curtains and Tie-backs
Various Photos and Frames
Garlands
1 x Christmas Tree
1 x Bundle of Prop Presents
---
Equipment Size: 2.4m wide x 1.8m high (max panel size)
Operational Area Required: can be tailored to your requirements
Power: standard socket required (generator hire available 6.5kva)
Access Requirements: please note that a width of 0.82m is required when moving the equipment through doorways and corridors. If you feel that access may be an issue, such as stairways or lift access, uneven surfaces, obstructions or perhaps long distances then please mention this in your enquiry.
Speak to a Fun Expert today to discuss the bespoke upgrade options available from additional equipment, branding, prizes, props and theming. As we own all of the equipment found on our site, we have the flexibility to adapt equipment to suit your requirements. Some options to upgrade your hire of the Wooden Grotto Facade include:
Santa's Grotto Presents - for every child (and adult!) visiting Santa, there is always the hope that you've been good enough to come away with an early gift from Santa. Our elves at Fun Towers have been busy packaging up this years Christmas gifts so they're ready for you and your guests!
Santa & Elves - with the hire of the Inflatable Christmas Grotto, you may need a costume for your Santa and Elves. A quality suit for whomever you may have your eye on filling it out!
Additional Theming & Props - though these packages have been carefully considered by the Fun Experts to offer the best impact, you may want to include more. With items such as comical Reindeers,  Snowman Prop, Sleighs, Presents, Postboxes and Christmas Trees...more really is merrier!
Speak to the festive Fun Experts today to discover how upgrading your package can be made even more merrier this Christmas.
Our events are very important to us so it's great to work with a company that shares our commitment to making our events a success.
Karin Bruce
We've hired other grottos for our shopping centre but yours far EXCEEDED OUR EXPECTATIONS!
Stuart Robbins
We have hired the wooden facade for our office for the past 4 years. Its a perfect set up for us so everyone can watch the kids receive their presents from Santa.
Sue Cannon, HR Manager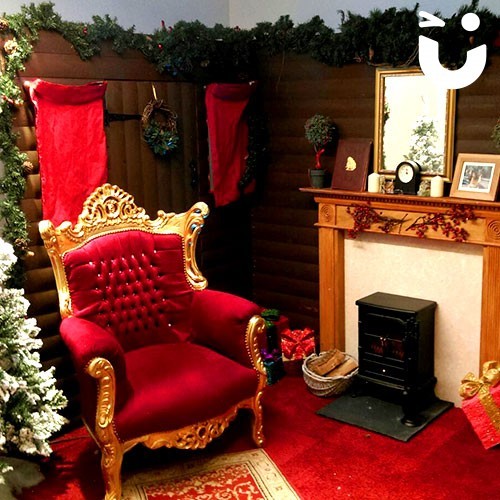 Santa's Christmas Wooden Grotto Facade Hire has been added to your Event Quote.
Close
Call the Fun Experts to discuss your event: