Cash Grabber Hire with Christmas Theming Hire
Cash Grabber Hire with Christmas Theming Hire
The annual Christmas party is a hotly-anticipated event and to make sure your guests are still talking about it into the New Year, you'll need a show-stopper!  Enter the Christmas Cash Grabber…. literally!  Step inside the booth and starting grasping at the brightly coloured tokens like a kid on Christmas morning.
As the neon lights radiate amazing colours, it will become harder to pluck those tokens out of the air, but that only makes the experience more fun. Then it's simply a case of counting up your hoard to determine if you've gathered a Christmas bonus!
The Christmas Cash Grabber Hire is a one-player game and once you're secured inside, you've got up to a minute to start grabbing. The high speed winds make it more and more difficult as the game progresses.
Surrounded by a great selection of Christmas props, Christmas Cash Grabber Hire is a great addition to a Christmas event and a welcome injection of fun and excitement. Don't let Rudolph put you off your reindeer games though!
There are loads of different games you could play in the Christmas Cash Grabber:
Crystal Maze Challenge – we'll fill the cylinder with Silver and Gold paper tickets.  The more you grab the more you score!
Gold Sticker Seeker – to add a little difficulty, we'll only add one Gold ticket.
Grab-A-Grand – raise the stakes by adding funny money to the cylinder and watch the player go for it!
Voucher Grab – perfect for promotions and exhibitions.
What events is the Christmas Cash Grabber Hire suitable for?
The Christmas Cash Grabber is just the ticket for all kinds of events and can be used as a competition centrepiece or just a cheerful game for all to take part in at any of the following:
Christmas Parties
Corporate Events
Fundraising Events
Shopping Centre Promotions
University Events
Santa's Grottos
Key features of the Christmas Cash Grabber:
Bespoke brandable tickets
Bespoke branding of the Cash Grabber
Eye catching lights and visuals
Fun Christmas props
Don't let the Christmas Cash Grabber pass you by - get in touch with one of our dedicated fun experts who can blow up a storm at your event!
Equipment Included with the Christmas Cash Grabber
1 x Cash Grabber Machine
1 x Lead
1 x Fan
Silver / Gold tickets
1 x Fun Expert
1 x Winter Wonderland Backdrop
1 x Comical Reindeer or 1 x Snowman
1 x Christmas Tree
1 x Set of Sparkly Christmas Presents 
Equipment Size: 1.6m wide x 1.6m deep x 2.4m high (plus theming)
Operational Area Required: 2.6m wide x 2.6 m deep x 2.5m high (plus theming)
Power: standard socket (generator hire available)
Staff: fully trained fun expert provided
Number Of Users: 1
Recommended Age/Height of Users: 5 years and over
Access Requirements: please note that a width of 0.82m is required when moving the equipment through doorways and corridors. If you feel that access may be an issue, such as stairways or lift access, uneven surfaces, obstructions or perhaps long distances then please mention this in your enquiry.
We can tailor the Christmas Cash Grabber to your event with some fantastic Upgrade options as detailed below:
Bespoke brandable tickets - we can make the Cash Grabber more unique to your event with this option.

Bespoke branding of the Cash Grabber

- with the use of vinyl printing, we can decorate the Cash Grabber with vinyl stickering and add even more eye catching detail for your guests.
Additional theming and props - add even more of a festive feel by adding some additional Christmas theming to your hire with our varied choice of props.
Speak to a Fun Expert today to discuss how you can benefit from these bespoke features for your event.
The Cash Grabber became a definite focal point, not only of our stand but of the entire expo!
Gemma Wheeler, , Vapouriz
The Christmas theming and props were PERFECT to add the finishing touches to our Christmas event. Brilliant service!
Lucy Eland
Thank you for making our Christmas Party the best we've ever had!
Carol Smethurst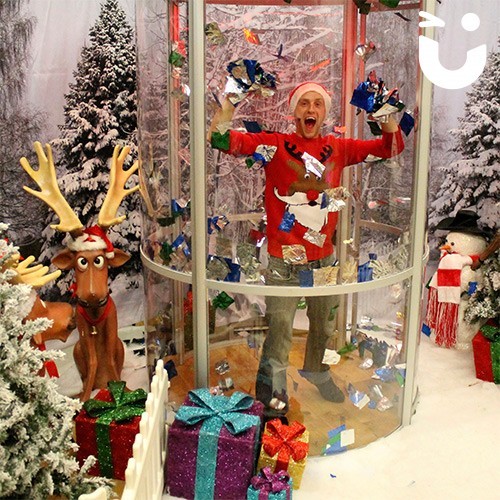 Cash Grabber Hire with Christmas Theming Hire has been added to your Event Quote.
Close
Call the Fun Experts to discuss your event: