Christmas Crafts Workshop Hire
Christmas Crafts Workshop Hire
Keeping the little ones entertained is difficult enough the rest of the year, but once the prospect of Santa and brightly wrapped presents is introduced, you'll want to give them an activity that helps build the excitement for the big day.
The Christmas Crafts Workshop is perfect for bringing a sense of wonder and excitement into the hearts of children everywhere, as well as fostering their creativity and imagination. With a great range of festive crafts, from tree decorations to wall hangings and Christmas cards, there's something for all ages on the table. Using dry craft materials (no paint or glue to worry about), kids will be able to create handmade Christmas gifts that will take pride of place in their homes and might still be up on the wall well into January! Or maybe they'll be more at home with a box of crayons, colouring in one of our amazing colouring sheets.
Everything is included: a brightly decorated table and chairs and everything needed to make, stick, draw and colour something they can really call their own. And don't worry, Mums and Dads can get involved too!
What events is the Christmas Craft Workshop Hire suitable for?
The Christmas Craft Workshop is ideal for events where children are going to be present and our Fun Expert can be present to oversee the activity and provide a helping hand where needed. These events include:
Christmas Parties
Family Corporate Events
Fundraising Events
Shopping Centre Promotions
Santa's Grottos
Key Features of the Christmas Craft Workshop:
100 x Festive crafts
Unlimited colouring sheets
Brightly decorated table
8 x chairs
Give your little ones a treat at this year's Christmas party with the Christmas Craft workshop - they'll be entertained as well as stimulating their creative minds!
Equipment Included with Christmas Crafts Workshop:
Christmas Craft Box (these can be tailored to your requirements)
Table Drapes
Adult supervision required (a Fun Expert is available)
1 x Trestle Table
8 x Brightly Coloured Chairs
---
Equipment Size: 1.8m wide x 0.6m deep x 1.00m high (can be tailored to your specific requirements)
Operational Area Required: 2.8m wide x 1.6m deep (can be tailored to your specific requirements)
Staff: Adult supervision required (a fun expert is available)
Number Of Users: up to 8 at any one time
Recommended Age/Height of Users: 3 and upwards
You can add even more of a festive feel to your celebrations with these upgrade options available for the Christmas Crafts Workshop:
Additional crafts - expecting a much larger footfall at your event, you can order extra crafts.
Theming and Props - with our selection of Christmas Theming and Props, you can create a festive area for guests to 'craft' within.
Speak to a Fun Expert today to discuss how you can benefit from these Upgrades for your event.
Thank you for making our Christmas Party the best we've ever had!
Carol Smethurst
Everyone loved the Christmas Craft Workshops this year. Your staff were so creative and patient with the children - true FUN EXPERTS!
Elizabeth Harding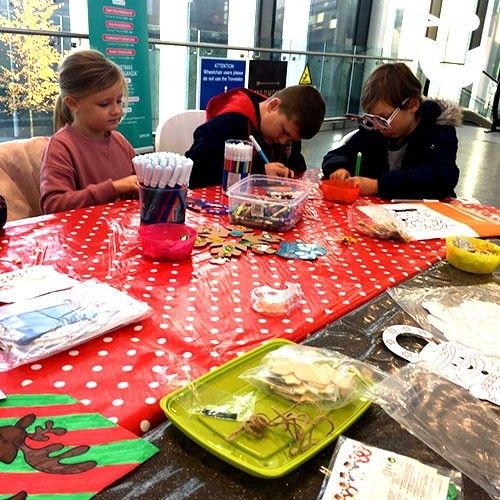 Christmas Crafts Workshop Hire has been added to your Event Quote.
Close
Call the Fun Experts to discuss your event: