Christmas Elf On The Shelf Hoopla Stall Hire
Christmas Elf On The Shelf Hoopla Stall Hire
Roll Up!  Roll Up!  Here at The Fun Experts, we love a good funfair and the best part is having a go at some of the exciting Side Stalls to win a novelty prize.  Since Christmas is all about good fun and cheeky gifts, we've created some amazing Christmas-themed Side Stalls to bring to your event!
The Christmas Hoopla is a festive twist on the classic hoop-throwing game, where a flexible wrist and keen eye will help you in your mission.  Whether you aim for the comical Reindeer's antlers, or the frosty Snowman's nose, you'll need luck, skill and determination to score.
We'll give you five rope hoops to throw and you could either get three hoops on the Reindeer's antlers or get one hoop on the Snowman's nose, but beware - that carrot schnozz is much trickier to ensnare.  But sometimes, losing is all part of the fun… we wouldn't want to make it too easy for you! 
All of our Christmas Side Stalls come with 50 novelty prizes to hand out to those lucky enough to master their hoops and beat the game.  There are funny Santa hats, candy canes, festive funny glasses and much more.
What events is the Christmas Hoopla Stall Hire suitable for?
The Christmas Hoopla is a great addition to all kinds of Christmas events where you want to add a festive twist on a classic game, including:
Christmas Parties
Corporate Events
Fundraising Events
Shopping Centre Promotions
University and School Events
Santa's Grottos
Key features of the Christmas Hoopla Stall:
Christmas props - including our cheeky snowman and comical reindeer
50 x novelty Christmas prizes
Great indoors or outdoors… even in a bit of rain (or ideally snow, Christmas is here!)
Make sure you score big at your event with the Christmas Hoopla Stall at your next event.  Pick up the phone and call our Fun Experts and you'll be sure to wow the crowds! 
Equipment Included with Hoopla Stall Hire:
1 x Red and White Striped Stall & Festive Frontage
A selection of festive props (subject to availability)
5 x Hoops
50 x Christmas Novelty Prizes
Equipment Size: 2.14m wide x 2.14m deep x 2.14m high
Operational Area Required: 3.14m wide x 3.14m deep x 2.14m high
Power: standard socket (if lighting is required)
Staff: adult supervision required (a fun expert is available)
Number Of Users: 1
Recommended Age/Height of Users: 5 years and over
Access Requirements: please note that a width of 0.82m is required when moving the equipment through doorways and corridors. If you feel that access may be an issue, such as stairways or lift access, uneven surfaces, obstructions or perhaps long distances then please mention this in your enquiry.
Not only do you have the option to upgrade your pacakge with additional fun Christmas products - the Christmas Funfair Party Package may be a step in the right direction - you can also personalise your hire of the Christmas Hoopla Stall...
Bespoke Branded Front Banner - already featuring a festive feel to the stall banner, you can add your own bespoke festive design.
Additional novelty prizes - have a big guest list?  Each stall comes with 50 Christmas themed prizes as standard but if you're expecting more guests, make sure they all walk away with a festive treat.
Theming and props - with a selection of Christmas Theming available, you could add more magic to your Christmas party.
Speak to a Fun Expert today to discuss how you can benefit from these bespoke features for your event.
Our guests thoroughly enjoyed the Funfair Stalls and have commented on how it gave the party a really fun feel. Thanks so much for adding the FUN to our event!
Jason Wouhra
The stalls were great quality and fun!! The guys were friendly and helpful! Would use again and recommend.
Emma Robinson
Thank you for making our Christmas Party the best we've ever had!
Carol Smethurst
We had a very competitive few hours throwing hoops and beanbags at coconuts - including a stellar performance by our MD the new "King of the Hoopla"!
Jules, The Clearing
The fun fair stalls are very addictive and a great laugh. I would definitely use The Fun Experts in the future and would recommend to all.
Chris King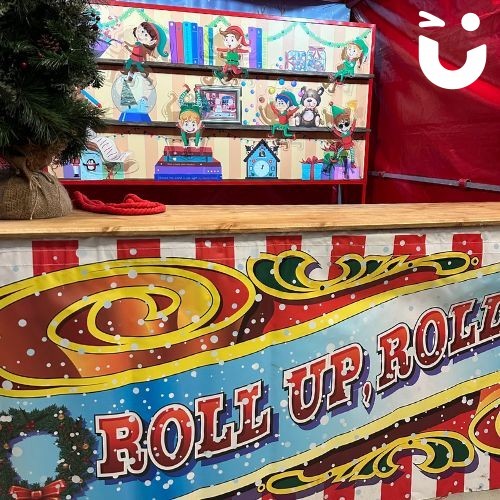 Christmas Elf On The Shelf Hoopla Stall Hire has been added to your Event Quote.
Close
Call the Fun Experts to discuss your event: