Christmas Tree Buzz Wire Hire
Christmas Tree Buzz Wire Hire
The Office Christmas Party is full of revellers, imbibing a little more than they're supposed to, but they'll need all their concentration and focus for this tricky little game. Much like our Hand Buzz Wire, it will take nerves of steel and steady hands to get your wand from one end of the wire to the other without touching it.
Once the game begins the heartbeat sound will only add to the tension as your face scrunches up in concentration, reflexes being tested and your knuckles turn white grasping the metal wand. Moving along the wire you'll need to twist and turn the wand to get around the corners that make the festive tree shape - but if your concentration should waver and you touch the wire, the buzzer will sound and that's one life lost! Never fear though - you've got three lives.
If you should fail in your task and all three lives are lost, it's time for someone else to have a go.  All you need to do is press the start button and the game begins anew. You can even go the opposite way if you find that easier.  These games are fantastic for Christmas events, as they don't take up a lot of room - just find a table and a plug socket and you're away! The Christmas Tree Buzz Wire Hire is also available for collection from our depot!
What events are the Christmas Tree Buzz Wire Hire suitable for?
The great thing about the Christmas Tree Buzz Wire Hire is how much is fun it is for such a compact piece of equipment and can be added to any kind of package that needs something extra at your Christmas event.
Christmas Parties
Promotional Events
Charity Events
Weddings at Christmas 
Shopping Centre Promotions
University Events
Children's Parties
Key Features of the Christmas Tree Buzz Wire Hire:
No staffing needed - players can run this themselves
Heartbeat timer sound
Volume controlled base unit available
Options to brand the base unit
Easy to learn - tricky to master!
Add a little festive fun to your event with the Christmas Tree Buzz Wire Hire and you'll be branching out into the world of buzzing, beeping and, hopefully, cheering!
Equipment Included with Christmas Tree Buzz Wire Hire:
1 x Buzz Wire Base
1 x Christmas Tree Shaped Wire (can be bespoke shape if required)
1 x Wand
1 x 5m Extension Cable
13 amp Electrical lead
---
please note that you would need to place the Christmas Tree Buzz Wire game on a flat table top service. We do recommend a low table should children want to play.
Equipment Size: 0.8m wide x 0.4m deep x 1.2m high
Operational Area Required: 1.8m wide x 1.4m deep
Power: standard socket (generator hire available)
Staff: adult supervision required (a fun expert is available)
Number Of Users: 1
Recommended Age/Height of Users: 5 years and over
As if the Christmas Tree shaped wire wasn't enough to let your guests know Christmas is here, you may want to shout even louder about the festive season. Here are just a few options on how you can upgrade your hire:
Bespoke Wire - already featuring a very obvious hint at Christmas, you could if you like change the design / challenge of the Christmas wire. A wreath perhaps?
Double Up! - adding to the already challenging, er, challenge of the Buzz Wire, guests could compete one on one by introducing a second Buzz Wire. Not only facing the challenge of time with 3 lives, add a race element to heat up your guests in the winter cold.
Speak to the Fun Experts today and enquire as to how you can upgrade your hire of the Christmas Tree Buzz Wire for your event.
Thank you for making our Christmas Party the best we've ever had!
Carol Smethurst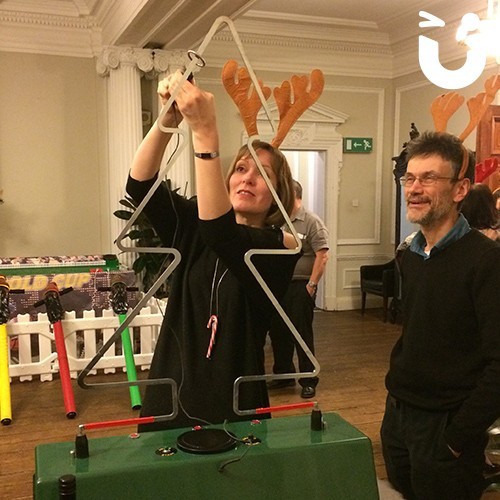 Christmas Tree Buzz Wire Hire has been added to your Event Quote.
Close
Call the Fun Experts to discuss your event: