Christmas Fun Fair Party Package
Christmas Fun Fair Party Package
Adding a Christmas twist to our ever popular Side Stalls has seen the perfect ready made package become available for your upcoming Christmas event. The Christmas fun fair Party Package offers all the fun of the fair at your Christmas party as we add a sprinkle of festive cheer to some of our favourite, classic carnival games along with two of our personal favourite items.
Featuring our very own festive twist to classic carnival games, your guests will have the chance to walk away with a festive novelty prize as well as showing their competitive side with these:
Roll-A-Ball Reindeer Racing - the original pier classic, Donkey Derby, receives a makeover as Rudolph, Comet, Dasher and Vixen dash for the finish line.
Christmas Hook A Duck Stall - the rules are the same as you try and hook the ducks with your Candy Cane.  You've never seen anything as cute as a rubber duck in a Christmas Hat!
Christmas Fun Fair Target Stall - take aim at the festive backboard with the high-powered crossbows.
Christmas Target Tree Stall - you need skill and a great aim as you try and launch your Christmas puddings in to our Christmas Target Tree.
Christmas Hoopla Stall - one of the most popular side stalls receives a frosty makeover as you try and hoop one of those pesky penguins.
Test of Strength - a favourite at any fair, guests compete to hit 100 by striking the target with our festive mallets.
Set within our striking red stalls and striped roofs, and featuring a festive themed front, the Side Stalls are an instant eye catching and crowd pleasing addition to any Christmas event.  Along with the Roll a Ball and Test of Strength, this package is ideal to entertain your guests as they face the challenges set down by our team of Fun Experts, who if you like can remain with you throughout your celebrations and bring more excitement and entertainment to the event.
What Events is the Christmas fun fair Package suitable for?
You've chosen your venue and set the date, is this package right for you?  Of course it is; offering guests the chance to celebrate Christmas and have some festive fun, the package is available to hire for:
Christmas Office Party - Bring a Winter Wonderland directly to your staff and help celebrate the end of the year by bringing the festive cheer! 
Community Event - Bring the community together this Christmas season by holding an event like no other, from street parties to Christmas arts and crafts, the Fun Expert Elves are just a phone call away.  
Corporate Christmas Event - Whether promoting a product or launching your new brand, create a awe inspiring atmosphere with our vast array of Christmas Hires bespoke to your needs!
Universities & Schools - Bring the magic of Christmas to the campus this festive season with a sleigh full Christmas excitement for all the students to enjoy! 
Speak to one our Fun Experts who will happily guide you through your Christmas event and share with you the passion and expertise for this wonderful time of year.
Key Features of the Christmas Fun Fair Package:
A ready made package, perfect for your Christmas Event
50 novelty Christmas prizes included for each stall
All the fun of the fair at Christmas
Equipment included with the Christmas Funfair Party Package:
1 x Christmas Target Tree Stall
1 x Christmas Hook A Duck Stall
1 x Christmas Hoopla Stall
1 x Christmas Funfair Target Stall
Each Side Stall comes with 50 Christmas themed novelty prizes - 200 in total!
1 x Roll-A-Ball Reindeer Racing
1 x Test of Strength
Up to 5 Fun Experts - you can staff some of the Side Stalls yourself if you wanted!
Power Cables
Operational Area Required: please speak to the Fun Experts to discuss size of area required
Power: standard socket required (generator hire available)
Staff: adult supervision required (Fun Expert hire available)
Number Of Users: up to 4 people
Recommended Age/Height of Users: 3 years and over
Access Requirements: please note that a width of 0.82m is required when moving the equipment through doorways and corridors. If you feel that access may be an issue, such as stairways or lift access, uneven surfaces, obstructions or perhaps long distances then please mention this in your enquiry.
Christmas is such a huge celebration so if you want to go all out at this years Christmas party, be sure to ask the Fun Experts how we can enhance the magic with your Christmas package. Other big hits at this time of year include -
Photo Booth with Christmas Theming - the perfect way to keep those memories of the Christmas do as every guest comes away with a photo keepsake
Winter Wonderland Meet and Greet Area - make Christmas that extra bit special for your guests this year by inviting Santa and providing him a beautiful winter setting to listen to your guests wishes this Christmas.
Both these and more are availble to hire for your Christmas event and make for fantastic upgrades to this already fun filled hire package.
The Christmas theming and props were PERFECT to add the finishing touches to our Christmas event. Brilliant service!
Lucy Eland
Thank you for making our Christmas Party the best we've ever had!
Carol Smethurst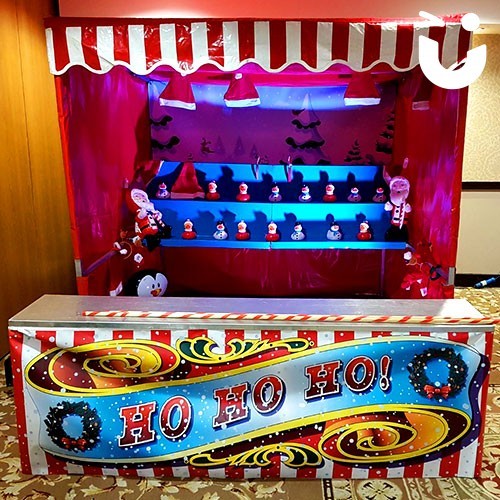 Christmas Fun Fair Party Package has been added to your Event Quote.
Close