Giant Noughts and Crosses Hire
Giant Noughts and Crosses Hire
Whether you call it Noughts & Crosses, Tic Tac Toe or Xs and Os, everyone knows how to play this game.  Played by everyone, from little children to experienced adults, the game has proven to be wildly popular at all kinds of events due to its apparent simplicity. However, look a little deeper and you'll find that this devilish game of strategy has more to it than meets the eye.
Using the over-sized and brightly coloured X and O counters, players must lay the pieces on the board, which can either be laid flat or stood upright, to try and get three of their pieces in a row.  Of course, their opponent will be working to stop them as they place their pieces to block potential winning rows, whilst trying to create their own row.  
The Giant Noughts & Cross is made of lightweight foam pieces, so it's suitable for all ages to use and can even be collected from our Preston depot.  Once you have this game at your event you'll gain a whole new appreciation for its simple pleasures!
What events are the Giant Noughts And Crosses Hire suitable for?
As part of the Giant Games Area or on its own, the Giant Noughts And Crosses Hire is a popular sight at all kinds of events.
Fun Days
University Events
Sports Events
Team Building
Promotional Events
Birthday Parties
Bar & Bat Mitzvahs
Exhibitions
Corporate Events
Charity Events
Key Features of the Giant Noughts And Crosses Hire:
A great add-on to most events, or can be collected if hired on its own
All the pieces included
Soft pieces can be used by all ages
Did you know?  Going first gives you a much highest chance of winning! Just don't tell your opponent.
Equipment Included with Noughts & Crosses Hire:
5 x Red 'Nought' Pieces
5 x Yellow 'Cross' Pieces
1 x Free Standing Game Board
---
Equipment Size: 1.0m wide x 1.0m deep x 1.0m high
Operational Area Required: 2.0m wide x 2.0m deep
Staff: adult supervision required (staff hire available)
Number Of Users: 2
Recommended Age/Height of Users: 5 years and over
Speak to a Fun Expert today to discuss the bespoke upgrade options available from additional equipment, branding, prizes, props and theming. As we own all our own equipment we have the flexibility to adapt equipment to suit your requirements.
2nd time that we have used The Fun Experts to supply Giant Games for our Staff Summer BBQ. Excellent service, good products at reasonable prices.
J Wells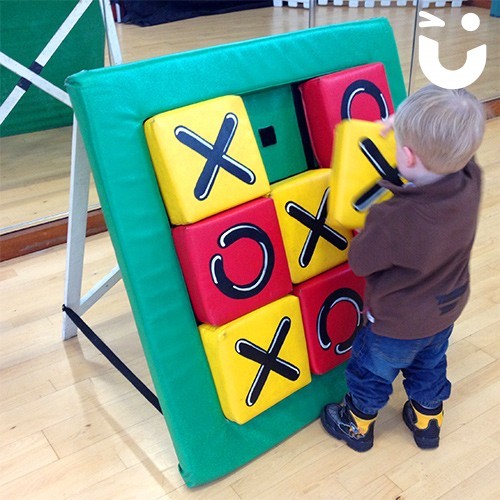 Giant Noughts and Crosses Hire has been added to your Event Quote.
Close
Call the Fun Experts to discuss your event: